History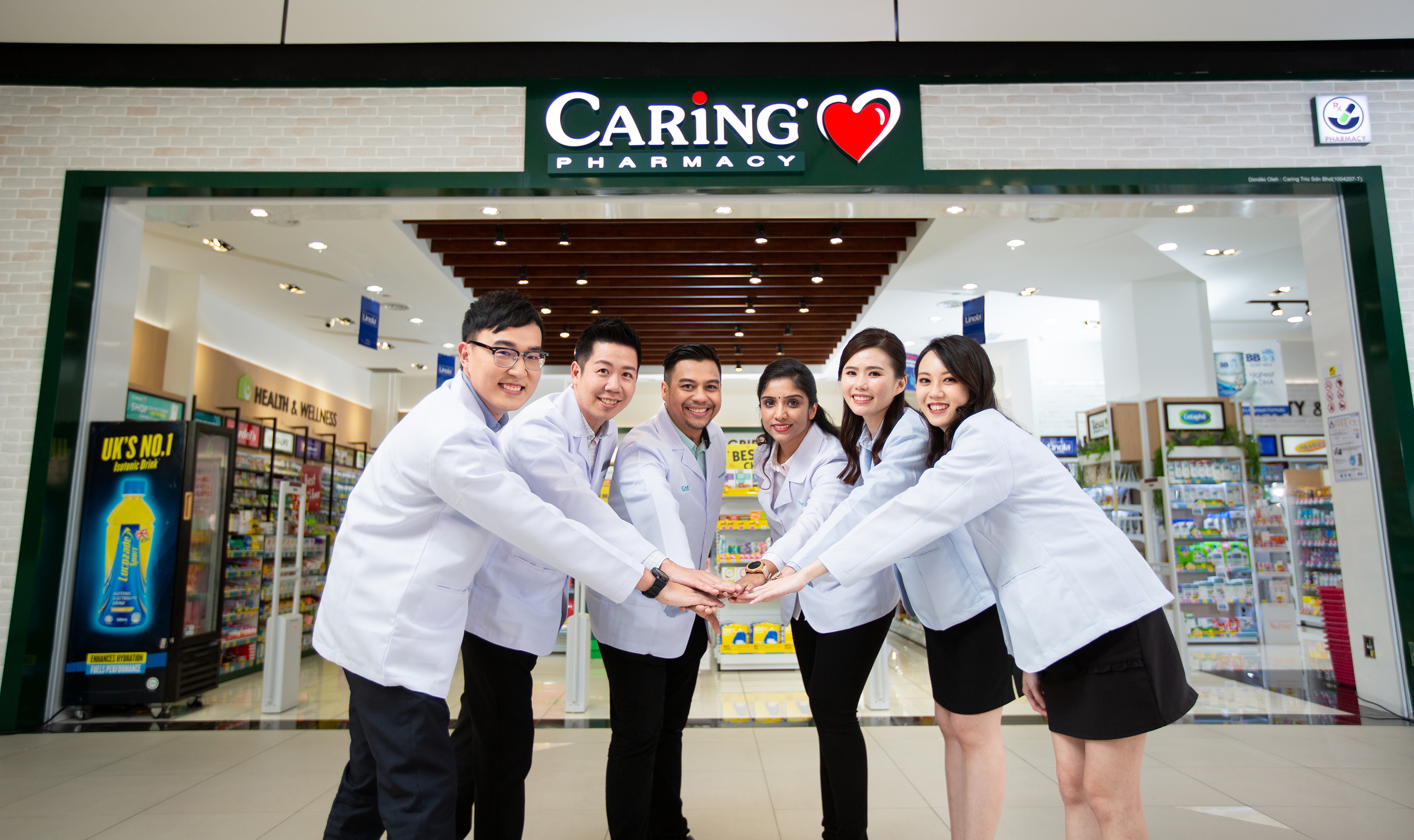 The Beginning 
CARiNG Pharmacy was established in 1994 by 5 pharmacists, who were course-mates in the School of Pharmacy, Universiti Sains Malaysia (USM). The first CARiNG Outlet opened in Taman Muda, Cheras. At the time, the awareness of community pharmacy services was still low. The founders, took these important steps to instill the value of pharmacists in the healthcare profession by:
Providing 12 hours a day, 7 days a week  full time pharmacist service.

Providing easily accessible pharmacist counseling service, free blood pressure checks and other health checks at a minimum fee. Designing the store with a modern, open concept to maximise interaction with customers and merchandise

With this successful concept, CARiNG Pharmacy is growing fast in the Klang Valley, Melaka and Johor Bahru.
The First Mall Outlet

In 2003, after successfully opening 13 high street outlets, CARiNG entered a new era by establishing the first mall outlet in One Utama Shopping Complex. From there, the number of mall outlets has since flourished to more than 10 outlets in 2011. The establishment signals CARiNG Pharmacy's entry into the modern trend of providing more varieties of skin care and personal care. The new concept store with vibrant design, organised merchandising and directed displays were also pioneered at the Bangsar Village outlet in 2005. Currently in 2019, we have more than 120 outlets in West Malaysia and 1 outlet in East Malaysia.

In 2008, CARiNG@Tesco was established in Tesco Mutiara Damansara, Petaling Jaya. We have 1 CARiNG@Tesco outlet and 7 CARiNG@AEON Malls as of 2019. Being the first pharmacy within a hypermarket in Malaysia, CARiNG@Tesco and CARiNG@AEON Malls continues the spirit of CARiNG Pharmacy by providing full time pharmacist service, professional counseling and health check.
Supporting The Front Line
With the increasing number of outlets, the first support office was established in Sea Park, Petaling Jaya in 1998. From there, we have established a fully functional system in our new head office in Seksyen 51, Petaling Jaya. With more than 100 supporting staff from Information Systems, Human Resources, Finance, Operations, Marketing, Warehouse, Training, Pharmacy, Purchasing and Supply Chain departments, we take pride in making sure the business runs smoothly and efficiently for CARiNG Pharmacy.
CARiNG's Shopper Loyalty Program
The first Caring customer loyalty program – CARiNG Regular Card was launched in 2002. In 2006, CARiNG Pharmacy began a partnership with BonusLink, Malaysia's premier multi-partner consumer rewards program to enhance our benefits program.­ 
As our business continue to flourish, we have decided to create our own Shopper Loyalty Program. Introduced in January 2019, our very own Caring's Shopper Loyalty Program is digitally accessible via Caring Pharmacy's mobile app. More than 300,000 members have signed up to be a Caring member. Being a Caring member, they can enjoy benefits such as birthday treats, collect & redeem points, get insights into exclusive promotions & discounts and  #IlikeCaring member rewards.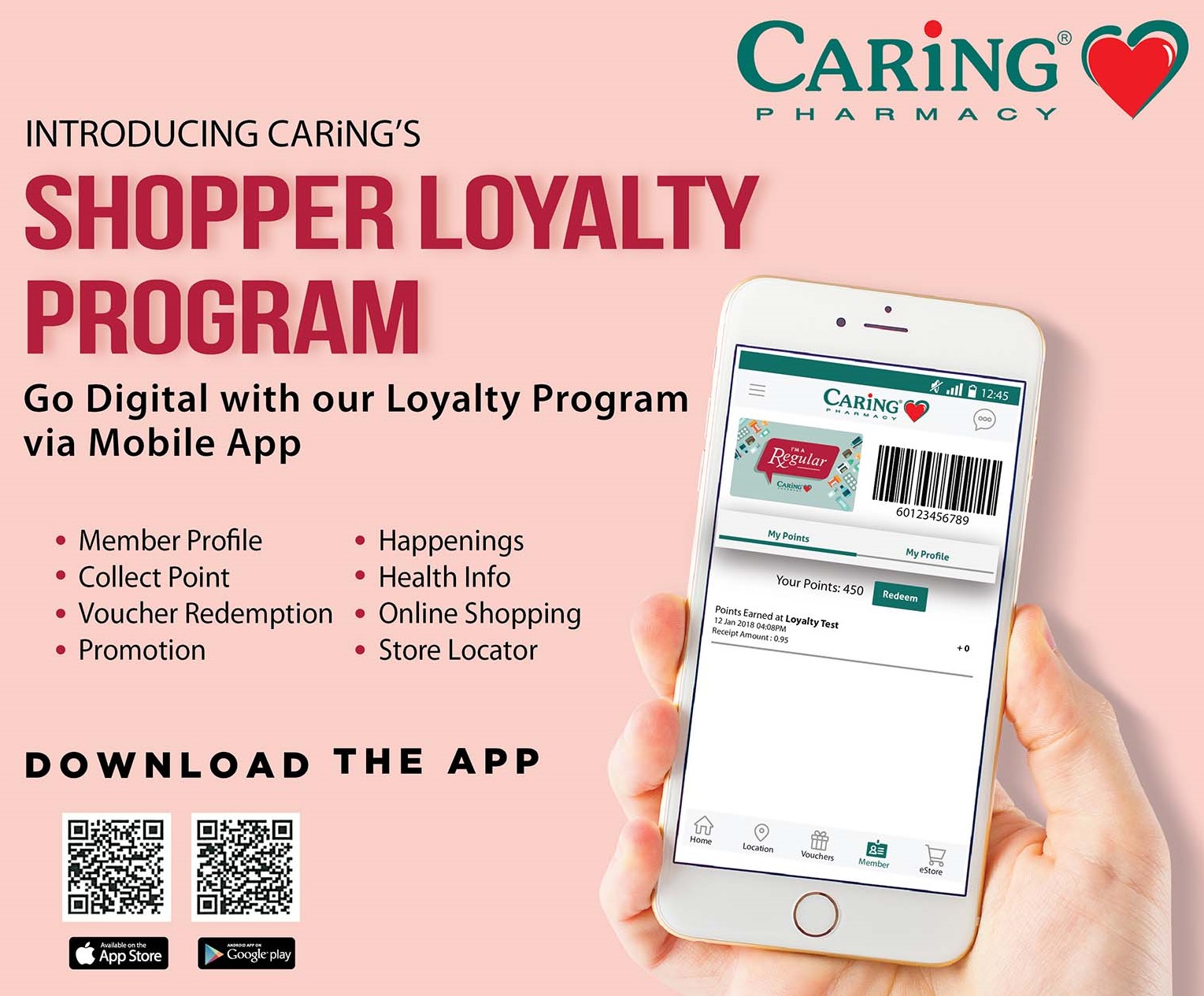 Vision & Mission
Vision of Caring Pharmacy
We strive to be the most appreciated and admired Pharmacy Brand.
Mission
To provide the most Professional and Innovative Pharmacy Services and the highest Quality Products to our Customers. We aim to be the driver and promoter of Healthy Lifestyles in the Communities that we serve.
To ensure that our People enjoy Attractive Rewards and receive Great Opportunities to develop themselves to their fullest potential in a "Caring" working environment.
To provide Superior Returns to our Partners in terms of dividend and share value.
Core Values 
• Customer Service Excellence • Caring • Professionalism • Teamwork • Innovation • Responsiveness • Integrity
Corporate Social Responsibilty
We care for the communities we serve!
Corporate social responsibility is a vital part of CARiNG. Our approach to corporate social responsibility is focused on our partnership with stakeholders that share our values of improving health and wellbeing of the communities that we serve.
OUR CUSTOMERS
 Health Awareness Day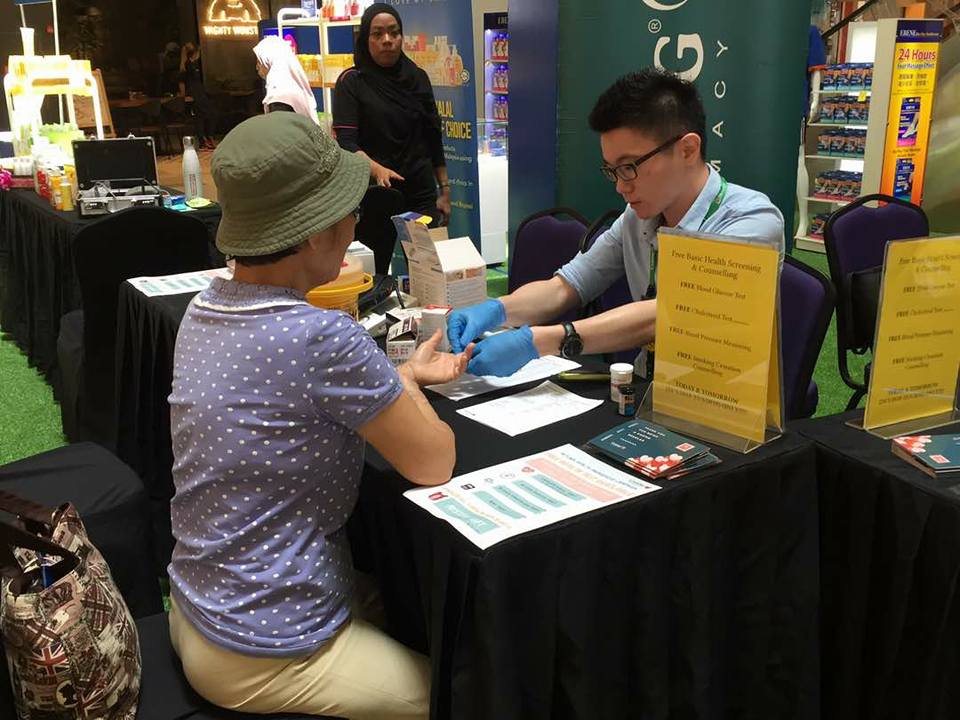 To promote healthy living and the importance of early detection and management of common silent killers (high blood pressure, high cholesterol, high glucose and obesity) among communities. Regular FREE health check, medication use review and counseling are provided during the CARiNG Health Awareness Day to the neighborhood.
Caring Health Talk/Workshops
We provide free health screenings, valuable information and health talks/workshops by medical doctors, senior diabetic nurse, physiotherapist and psychologist. 
Heart Health and Stroke Prevention Workshop 

Digestive Health Workshop 

Nocturia Workshop 

Eczema Workshop 

Diabetes Management – a series of 6 workshops 

Kids Health Workshop
Seamless Customer Experience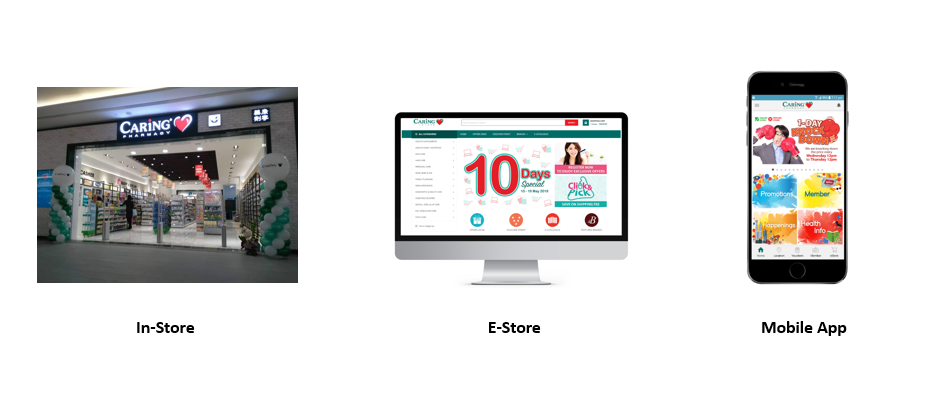 OUR PEOPLE 
Staff Trainings

Leisure Gathering & Team Building Activities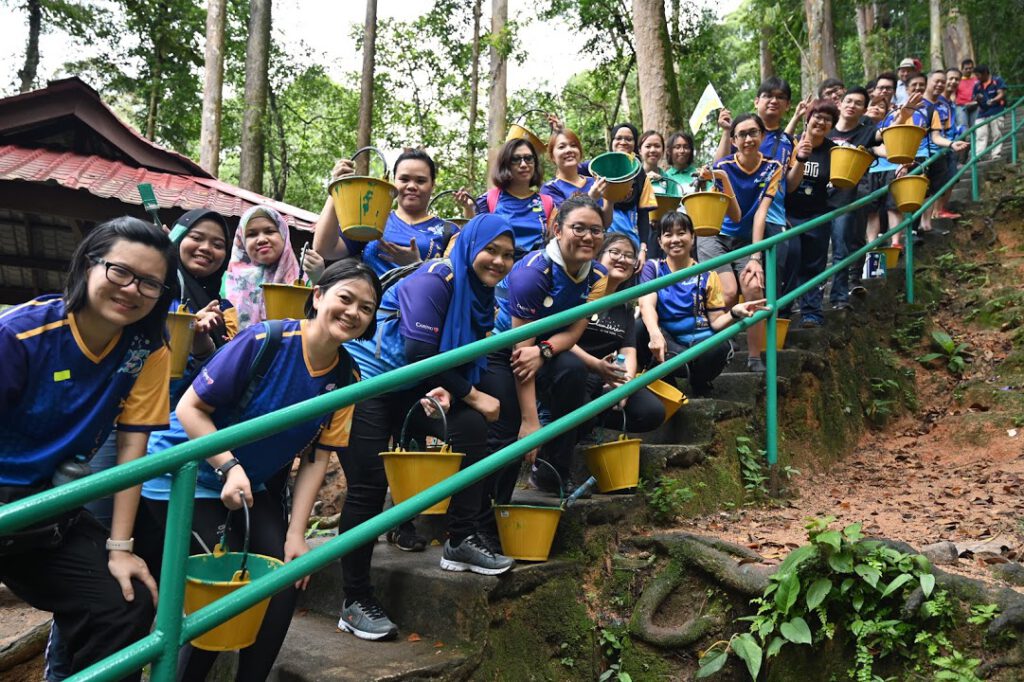 Anniversary Service Awards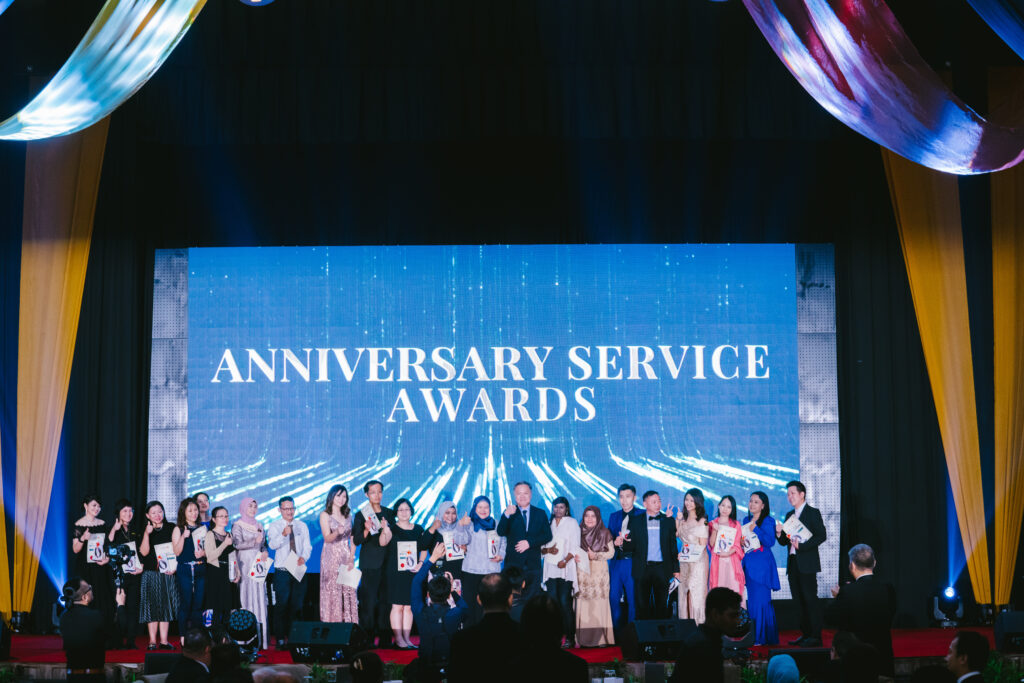 Go Green Initiative
We aim to reduce plastic usage in our retail stores by embracing a few simple daily actions.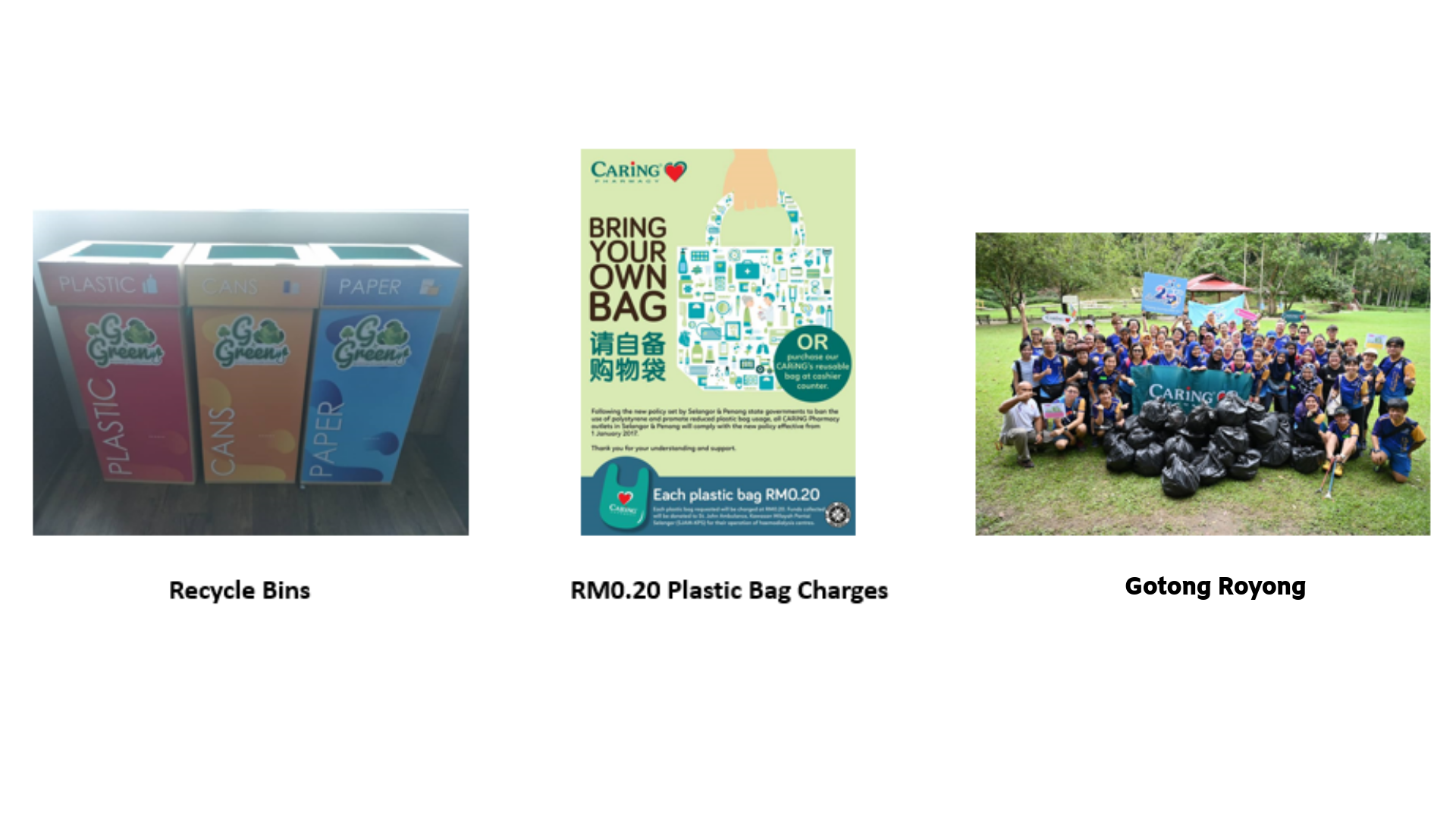 One Shop One School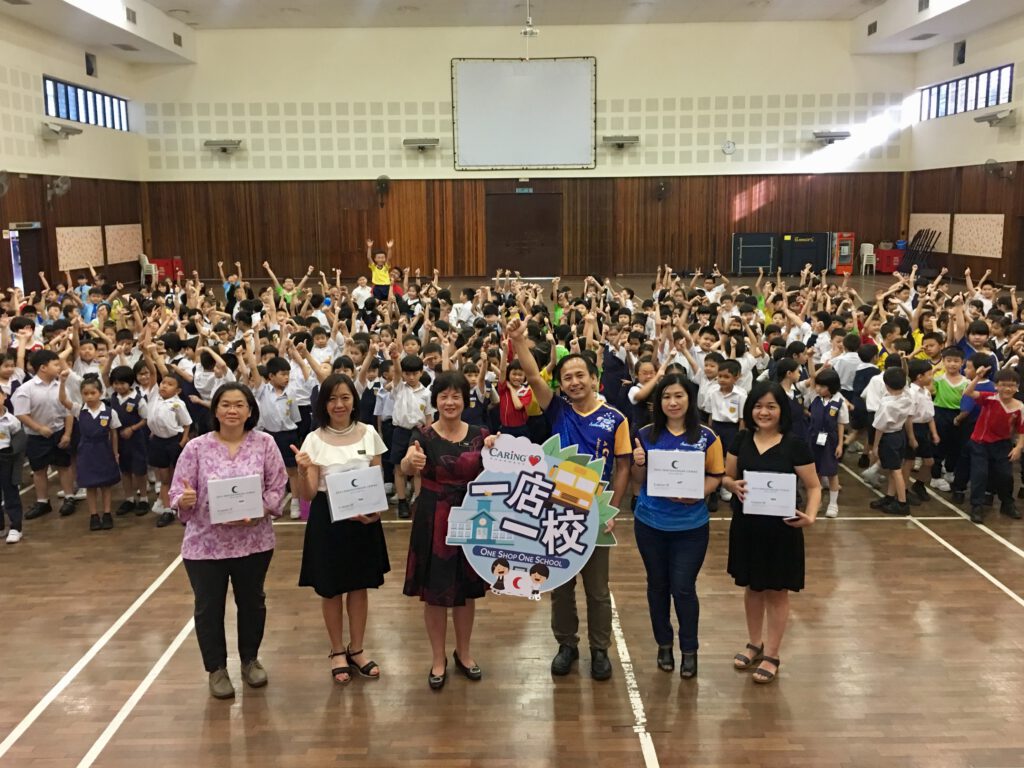 The objectives of CARiNG One Shop One School are to serve the community through first aid subsidy to local primary and secondary schools, to create health awareness among students, and to reduce expenditure burden of these schools. In this program, 20 selected primary and secondary schools nationwide received a few units of first aid kits for daily usage and are entitled to replenish their first aid items at dedicated CARiNG stores in 2017 and 2018. CARiNG also worked hand-in-hand with the schools to create health awareness among the students through an activation program.by medical doctors, senior diabetic nurse, physiotherapist and psychologist.
Community Outreach Programmes