While the COVID-19 outbreak is emerging as a global issue now, surgical/face mask has become an essential item for everyone when going out. As a protective barrier against the virus, we learned how to adapt our daily lives with the face mask especially those who need to wear it for long working hours. However for certain people, the skin under the mask is struggling and annoyed by acne breakouts.
According to dermatologists, any occlusion can cause acne. This is due to the increasing humidity, sweat and sebum production under the mask- providing an ideal environment for the bacteria to grow.1,2
Personal hygiene is the top priority to be considered for people with acne prone skin in order to bring down the acne flare up. Proper washing, putting on hydrating moisturizer and acne treatment gel are still important steps to be taken even though you are wearing a face mask. 
Tip #1: Face cleansing before and after wearing mask
Make sure that your hands are always clean before touching the face mask. Mild cleansing gel or foam can be considered to remove the excess sebum and dirt on sensitive skin. Ingredients like salicylic acid are useful to gently remove the dead skin cells and prevent clogged pores.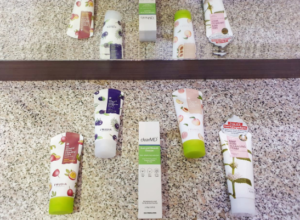 Tip #2: Hydrate and soothe
Every type of skin is required to be moisturized. Appropriate moisturizing can reach a balance which prevents the skin to be overly dry or oily. A light moisturizer can be applied after shower, shave or exfoliation.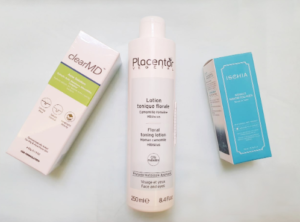 Tip #3: Use an acne spot gel
Apply acne spot gel when you have acne break out to kill the bacteria and reduce the inflammatory lesion. Medicated gel with antibiotics like clindamycin, adapalene and tretinoin are useful for mild-moderate acne. If you are having mild acne and the antibiotic gel is not your favourite, you can always consider to use non-medicated products which contain tea tree oil, salicylic acid, lactic acid, etc.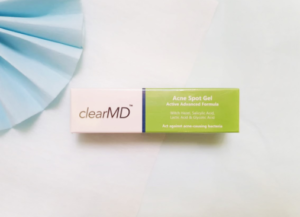 Tip #4: What else can you do?
Choose a face mask with breathable material will be better than the less breathable material like N95 mask.2
Try to minimise wearing makeup during this period as the foundation easily blocks up the pores and causes bacterial overgrowth. Last but not least, fully hydrating yourself with plenty of water is helpful in detoxifying and maintaining good health.
A choice of good facial products can get you away from acne. Do not hesitate to try the few recommendations above to fight with the acne and regain your confidence!
References
1. Wearing masks can make skin more sensitive and acne-prone, says doctor. Jia Ling.The Asian Parent. (Web accessed April 2020). Web link: https://www.asiaone.com/lifestyle/wearing-masks-can-make-skin-more-sensitive-and-acne-prone-says-doctor
2. Should Your Skin Care Change When You Wear A Mask? M.Decker. Refinery 29.(Web accessed April 2020). Web link: https://www.refinery29.com/en-gb/2020/04/9660171/face-mask-skin-care-acne-rash-coronavirus