Why Is It Important To Monitor Your Own Glucose Levels? 
Self-monitoring of blood glucose (SMBG) has multiple benefits, SMBG:
C

an identify which periods you have high sugar levels

(before/ after meals)

Can help to detect if you have less than normal blood glucose level (<4mmol/L) which may cause symptoms like palpitation, shaking, hunger and tiredness. 

Can immediately tell you the effects of food choices, physical activity, and medication on blood glucose control. 
What Is The Target Blood Sugar Level For a Diabetic?

How Frequently Should One Perform a SMBG? 
The frequency and timing of SMBG should be tailored based on the severity of diabetes (i.e. if you are pre-diabetic, on oral medication or on insulin) and lifestyle (dietary patterns and level of physical activity)

Ideally, for people taking insulin, SMBG should be performed daily
It is best to speak to your health care provider on how frequently you should perform a SMBG but, here are some examples below to give you an idea.
Recommendations For The Frequency of SMBG Based On Method of Diabetes Management

Table 1. Recommended frequency of SMBG based on the methods of management of diabetes. 
The frequency of SMBG for someone taking insulin is much higher. This is because the sugar levels for those taking insulin can drop very low, especially before food. A higher frequency of SMBG is recommended for diabetics on insulin to prevent hypoglycemia.
An Example of Meal Based Testing in a Week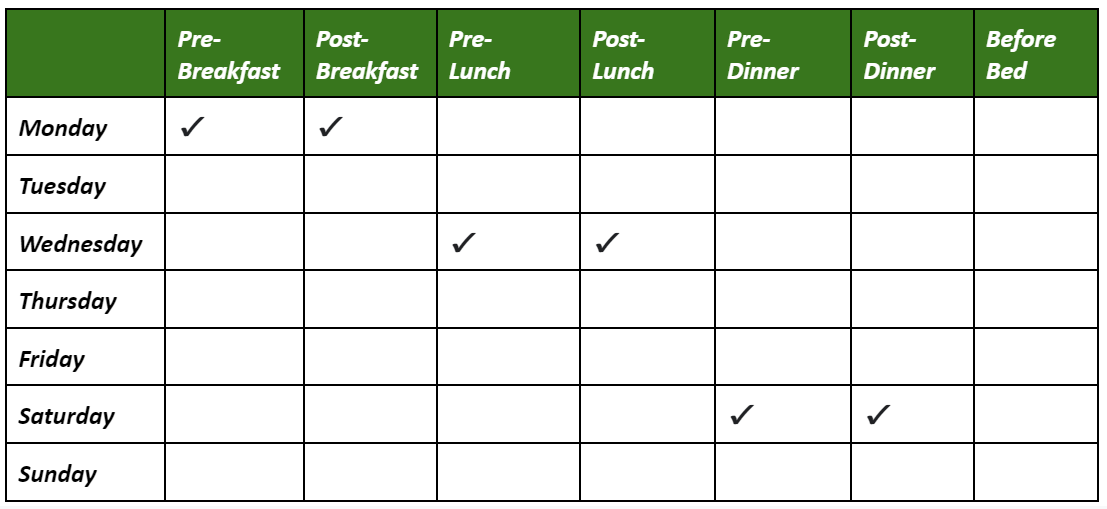 Table 2. Example of a Meal-Based Testing 
Low intensity (less frequency) testing based on meal times (i.e. before and after) helps the user to identify the effect of a specific meal towards blood sugar levels. This is suitable for users who want to know how certain meals affect blood sugar control. 
An Examples of Creating A Glucose Profile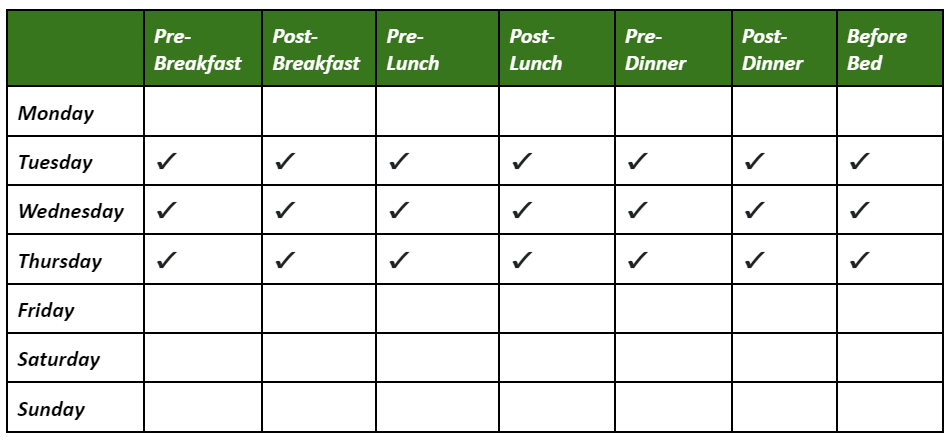 Table 3. 7-point Profile SMBG Regimen
An example of a high frequency SMBG regimen is to test 7 times a day for 3 days. By doing so, a glucose profile is created, this allows your doctor to see the ups and downs of your sugar levels throughout the day. This profile enables a more accurate adjustment to the medications prescribed by your doctor. 
Here are TWO more SMBG examples for different diabetic conditions  
Example 1: 
Puan Suhana visited the doctor and was prescribed a higher dose of oral medication (i.e. Metformin 500mg a day to Metformin 500mg twice daily). How does it benefit her to perform a SMBG?
SMBG can

provide feedback about the effectiveness of the dose change. 

A good SMBG result will encourage Puan Siti as she will see the effectiveness of the medication

A poor SMBG result might indicate the change was ineffective. This will alert Puan Siti to revisit the doctor earlier. 
Example 2: 
Mr Chan is a diabetic on insulin therapy. He exercises regularly. How often should he do SMBG?
The Bottom line: SMBG is Your Friend
Frequent monitoring helps you achieve better control of your diabetes. It is beneficial to everyone who has diabetes to do regular SMBG. The exact frequency to check however depends on you and your health care provider, as various factors come into play (cost, the severity of diabetes, changes in lifestyle, etc). As such, you should speak to your doctor or pharmacist in order to better manage your diabetes. 
Below are some messages from our sponsors regarding the glucometers you can consider using for your Self Monitoring of Blood Glucose!
Special Features of One-Touch Devices
Blood glucose meters such as

OneTouch Select Simple

 and

OneTouch Ultra Plus Flex

also help to make tracking your blood sugar easier and faster with high accuracy.


OneTouch Ultra Plus Flex meter requires only 2 -step testing, has higher accuracy and has ColorSureTM technology, which helps us detect whether you're in or out of range.
One Touch Promotion
OneTouch Promotion- RM30 Instant Rebate

From 10 Aug 2021 till 3 Jan 20211, purchase 1 set of OneTocuh Ultra Plus Flex Kit Blood Glucose Starter Kit + Ultra Strip 50s and get an instant RM30 OFF.


References:
Management of Type 2 Diabetes Mellitus (6th Edition). Ministry of Health Malaysia. (2020). Clinical Practice Guidelines.

Self-Monitoring of Blood Glucose in Non Insulin Treated Type 2 Diabetes. (2009) International Diabetes Federation.

When Should You Take Your Blood Sugar. [Internet]. 2020.  Available from: https://www.everydayhealth.com/diabetes/type2/managing/when-to-check.aspx

Sports and Blood Sugar Level. [Internet]. Diabetes. 2020 [cited 2021Sep15]. Available from: https://www.diabetes.co.uk/diabetes-sport-and-blood-sugar.html 

Glycemic Targets: Standards of Medical Care in Diabetes. (2019) American Diabetes Association. 42(Supplement 1): S61-S70.
A community awareness message brought to you by: