The National COVID-19 Immunisation Programme (PICK) that began in March 2021 is now entering the third phase of vaccination that involves adults 18 years old and above.1
The government had recently announced conditional approval for two additional COVID-19 vaccines.  They include Convidecia vaccine by CanSino Biologics Inc. and Janssen vaccine by Johnson & Johnson (J&J) Pharmaceutical Company.2  
Do note that these two vaccines are approved by the MOH, however it is not available as part of the vaccination programme in Malaysia yet.
Compared to other brands, these two vaccines require only 1 dose to vaccinate us against COVID-19.3 It is an advantage that will ramp up the vaccination process especially among folks in the rural areas, hence improving the rate of vaccination collectively.4 However, questions regarding its safety and efficacy have arisen. The diagrams below summarize the side effects and vaccine efficacy of these two brands.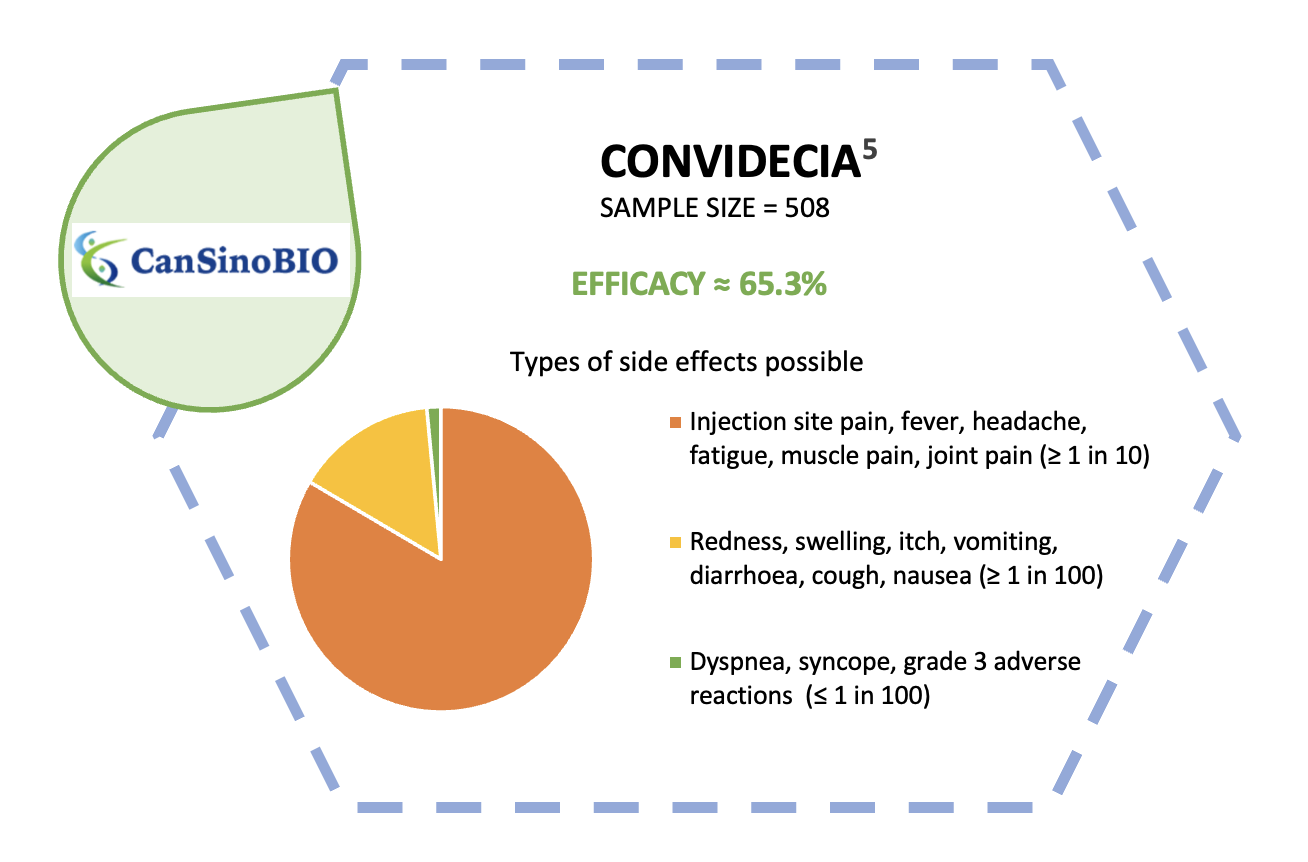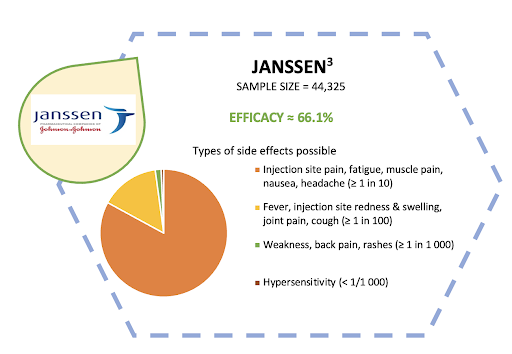 Simply put, the World Health Organization has evaluated the two newly-approved vaccine brands for their safety and efficacy for use in battling the COVID-19 pandemic. On top of that, our National Pharmaceutical Regulatory Agency (NPRA) and Ministry of Health have also made a thorough consideration before approving their use in Malaysia. Therefore, we should all rest assured regarding these vaccines' safety and efficacy. 
Frequently Asked Questions
1. Are the 1-dose vaccines less effective than the 2-dose vaccines? 
Comparing these two different types of vaccines will not be accurate because they were tested against different criteria. The Convidecia and J&J vaccines were tested for protection against moderate to severe COVID-19 illness whilst brands like Pfizer and Moderna were tested for their protection against symptomatic COVID-19 infection.6
2. How do the Convidecia and Janssen vaccines differ from all the other available brands?
These two vaccine brands used the modified version of the virus that carries a genetic material into the human body without causing illness. The genetic material will then convert into proteins that will induce the body's immune response to prepare it for exposure to the virus in the future. On the other hand, other vaccine brands like Pfizer and Moderna use messenger technology that carries instructions for the human body to produce similar proteins found on COVID-19 virus.7,8
3. What is the concern about a rare disorder involving blood clots reported globally with the use of Janssen vaccine (April 2021)?
There were 6 cases out of 6.8 million doses of the Janssen vaccine administered in the United States involving a rare type of blood clot called cerebral venous sinus thrombosis (CVST) that was seen in combination with low levels of blood platelets (thrombocytopenia). It was observed roughly about 6 to 13 days after vaccination among women between the ages of 18 and 48. However, the United States Centers for Disease Control (CDC) and Food and Drug Administration (FDA) have recommended a resumption of the rollout of the vaccine after the benefit-risk profile was evaluated. 9,10 
For more information and to clear all your doubts, do not hesitate to ask your CARiNG Pharmacists!
References:
Malaysia begins PICK phase three, inviting 18-year-olds and above for vaccination effective 21 June

. (Web accessed June 2021). Web link:

https://www.humanresourcesonline.net/malaysia-begins-pick-phase-three-inviting-18-year-olds-and-above-for-vaccination-effective-21-june

Malaysia grants conditional approval for CanSino, Johnson & Johnson Covid-19 vaccines.

(Web accessed June 2021). Web link:

https://www.straitstimes.com/asia/se-asia/malaysia-grants-conditional-approval-for-cansino-jj-covid-19-vaccines

Information leaflet for COVID-19 Vaccine Janssen Suspension for Injection. European Medicines Agency.

(Web accessed June 2021). Web link:

https://www.ema.europa.eu/en/documents/product-information/covid-19-vaccine-janssen-epar-product-information_en.pdf

.

Cansino's Covid-19 Vaccine is 65.7% Efficacy.

(Web accessed June 2021). Web link:

https://www.bloomberg.com/news/articles/2021-02-08/pakistan-says-cansino-s-covid-vaccine-shows-65-7-efficacy

Immunogenicity and safety of a recombinant adenovirus type-5-vectored COVID-19 vaccine in healthy adults aged 18 years or older: a randomised, double-blind, placebo-controlled, phase 2 trial. Zhu, F., Guan, X., Li, Y., Huang, J., Jiang, T., & Hou, L. et al. (2020).

Comparing the Covid-19 vaccines developed by Pfizer, Moderna, and Johnson & Johnson

.

(Web accessed June 2021). Web link:

https://www.statnews.com/2021/02/02/comparing-the-covid-19-vaccines-developed-by-pfizer-moderna-and-johnson-johnson/

How Effective Is the Johnson & Johnson COVID-19 Vaccine? Here's What You Should Know.

(Web accessed June 2021). Web link:

https://www.ucsf.edu/news/2021/03/420071/how-effective-johnson-johnson-covid-19-vaccine-heres-what-you-should-know

COVID-19 Vaccines, Malaysian Health Technology Assessment Section, Ministry of Health Malaysia.

(Web accessed June 2021). Web link:

http://covid-19.moh.gov.my/kajian-dan-penyelidikan/mahtas-covid-19-rapid-evidence-updates/COVID-19_VACCINES_editted.pdf

Joint CDC and FDA Statement on Johnson & Johnson COVID-19 Vaccine.

(Web accessed June 2021). Web link:

https://www.fda.gov/news-events/press-announcements/joint-cdc-and-fda-statement-johnson-johnson-covid-19-vaccine

Johnson & Johnson Single-Shot COVID-19 Vaccinations to Resume in the U.S. for All Adults Aged 18 and Older Following CDC and FDA Decision | Johnson & Johnson.

(Web accessed June 2021). Web link:

https://www.jnj.com/johnson-johnson-single-shot-covid-19-vaccinations-to-resume-in-the-u-s-for-all-adults-aged-18-and-older-following-cdc-and-fda-decision