As we all know, fasting is mandatory during Ramadan for all healthy Muslim adults. However, fasting can be challenging for diabetic patients and for healthcare professionals to manage. Fasting is associated with elevated risk of developing hypoglycaemia (low blood sugar levels), hyperglycaemia (high blood sugar levels) and dehydration.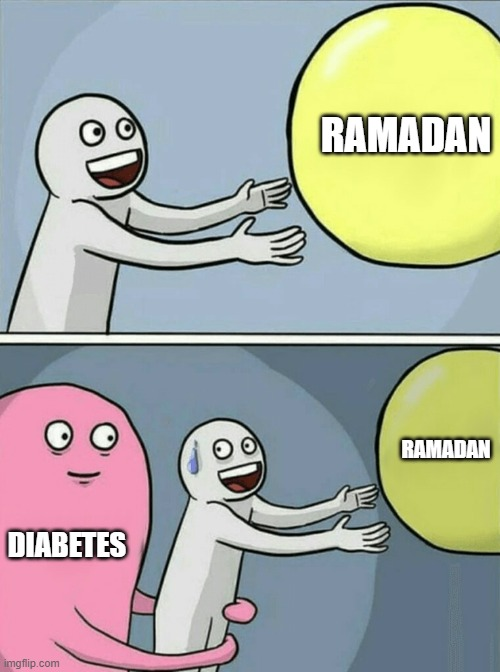 Preparation prior to Ramadan
Talk to your doctor or your pharmacist for a pre-Ramadan medical assessment. Healthcare professionals are capable of screening your health condition and helping you to manage your blood sugar level during Ramadan. Your risk during Ramadan depends on the following risk factors:
Tip: How to know if you are taking one of Sulfonylureas? If you are taking a diabetes medication that is to be taken before meal daily, it is likely to be one of Sulfonylureas. Ask your pharmacist to know more!
Glycaemic Control


Fluctuating blood glucose level puts you at a higher risk

Other diseases


Hypertension, high cholesterol levels, etc
Make sure you ask your doctors and pharmacists regarding the followings: 
Risk of adverse effect of fasting

Self monitoring of blood glucose

Signals to stop fasting

Meal planning, food choices and fluid intake

Exercise and physical activity

Dose modification of your antidiabetic medications

During Ramadan
Blood Glucose Monitoring


Blood glucose monitoring is crucial during Ramadan. Blood glucose check needs to be done immediately when symptoms of hypoglycaemia arise such as sweating, dizziness, feeling shaky or tired. This is especially true for patients on insulin. For patients on insulin, the frequency of blood glucose check depends on the type of insulin the patient is currently on.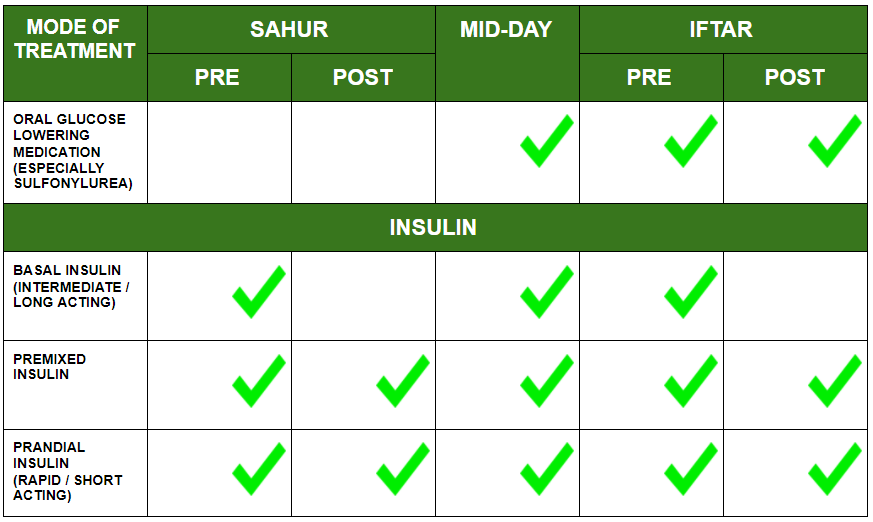 Want to know which category (intermediate/long, premixed or rapid/short acting) the insulin you are using falls under? Ask your pharmacist today!
Many are discouraged to practice regular blood glucose monitoring due to the fear of finger pricking. This concern is ameliorated by new and improved lancing devices such as OneTouch Delica. OneTouch Delica has an Advanced Glide Control System which guides the lancet precisely in a swift, straight motion for a smooth and stable lancing experience. This system also controls vibration for smooth and precise lancing.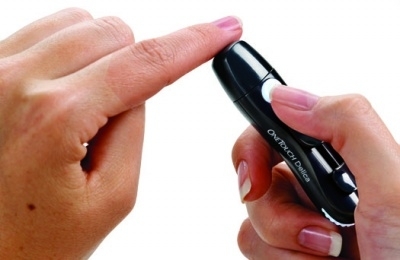 Blood glucose meters such as OneTouch Select Simple and OneTouch Ultra Plus Flex also help to make tracking your blood sugar easier and faster. The OneTouch Ultra Plus Flex meter requires only a simple 2-step testing, easier to understand with ColorSure™ technology that shows when you're in or out of range, and has a higher accuracy.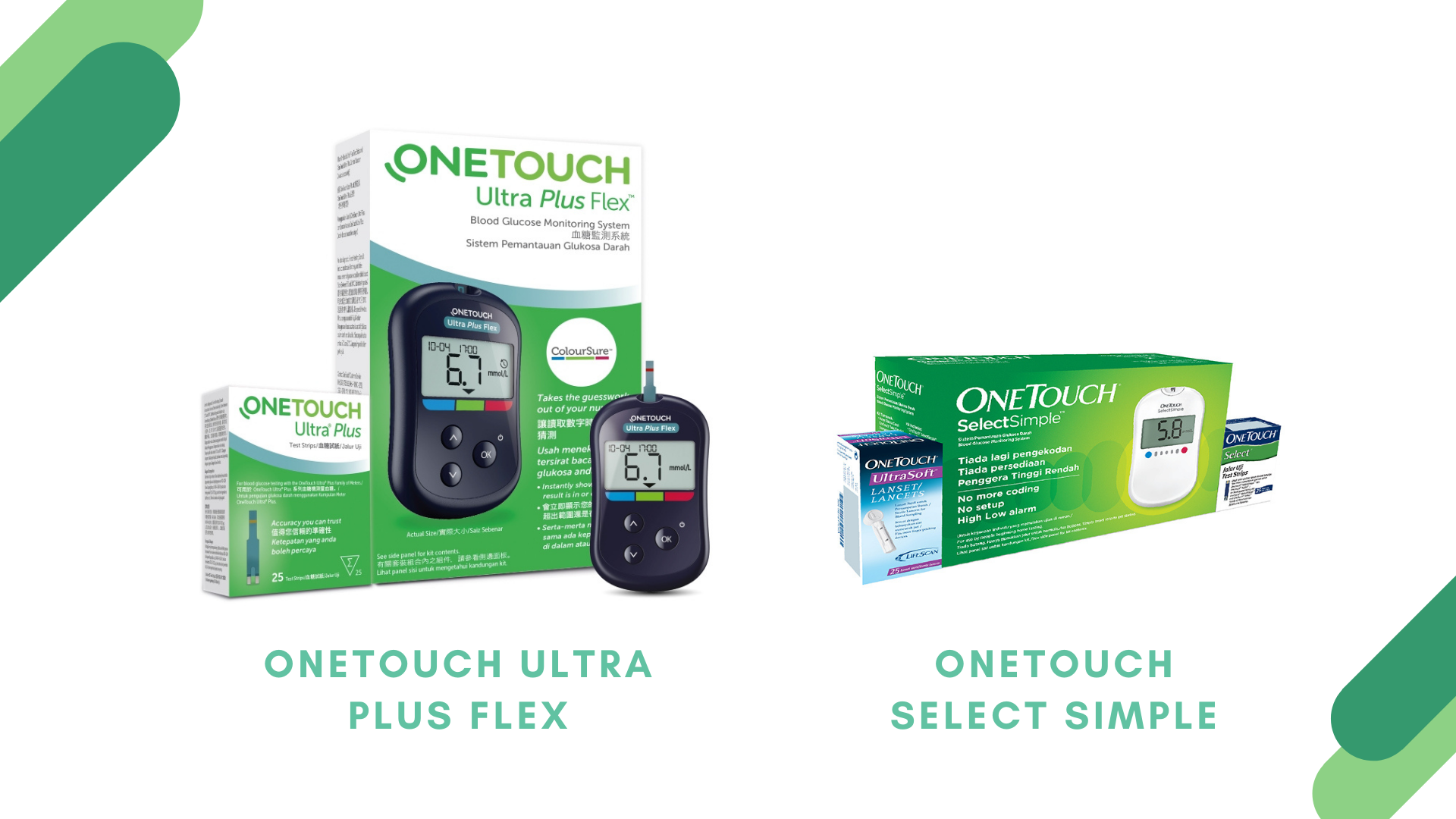 Meal Plan, Food Choices & Fluid Intake

Sahur (pre-dawn meal):
Should never be omitted

A balanced meal with adequate carbohydrate

To be taken as late as possible, just before Imsak (dawn)

Reduce salt intake (salt leads to dehydration)




Iftar (breaking of fast at sunset):

Should not be delayed

Intake of high sugar foods should be avoided

1-2 kurma (dates) at the start of Iftar 

Sufficient fluid to be taken (Aim for 8 glasses of water in a day)

Main meal is encouraged after the performance of Maghrib prayer.

Supper after Terawih (supererogatory prayers) as a pre-bed snack can be considered.

Dosage Modification of Glucose Lowering Medications

Many antidiabetic medications require adjustments during Ramadan. Some require omission of a dose, some involve dose-lowering while others involve changing the administration time. This is a complex topic so make sure you consult your healthcare provider. 

Ramadan Bersama CARiNG and OneTouch
Diabetes management during Ramadan is complex and requires an individualised approach. That is what makes it so important for diabetic patients preparing for Ramadan to plan ahead with the help of a pharmacist. CARiNG Pharmacy offers free consultation to all with concern of blood sugar control during Ramadan.

OneTouch New User Program – Purchase 2 boxes of OneTouch Ultra Plus Strip 25's at any CARiNG Pharmacy and get an OneTouch Ultra Plus Flex meter for FREE!
*Valid until 31 December 2021.

Visit any CARiNG Pharmacy store for more information.


References:
Management of Type 2 Diabetes Mellitus (6th Edition). Ministry of Health Malaysia. (2020). Clinical Practice Guidelines.


A community awareness message brought to you by: