HOW TO CHOOSE: PROBIOTIC SUPPLEMENTS (PART 1: 5 BASIC TIPS)
This article serves as a guide on how to choose a suitable probiotic supplement the next time you visit a pharmacy. Here are 5 things to look out for.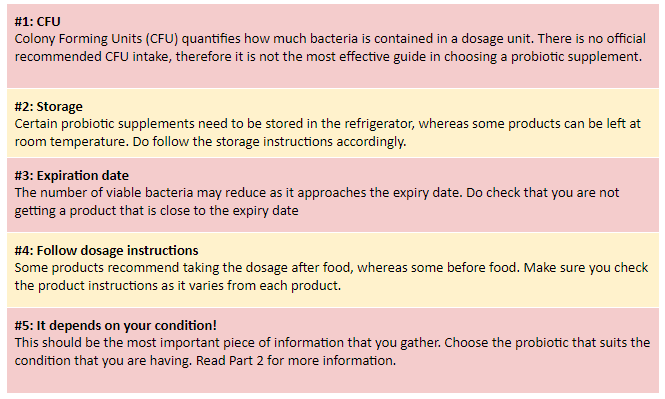 Reference:
Which Probiotic is Right for You? B. Nazario (June 2018) Web MD. Web accessed November 2019. Weblink:

https://www.webmd.com/digestive-disorders/pick-right-probiotic#2
HOW TO CHOOSE: PROBIOTIC SUPPLEMENTS (PART 2: CONDITION SPECIFIC PROBIOTICS)
Basic tip#5 (continued): Choosing the right probiotic depends on your condition
*In this article, products are mentioned with the intention to allow readers to better identify the probiotic strain that suits their needs. Alphabets A, B, C, D, etc are used to identify the products that contain certain probiotic strains/ingredients.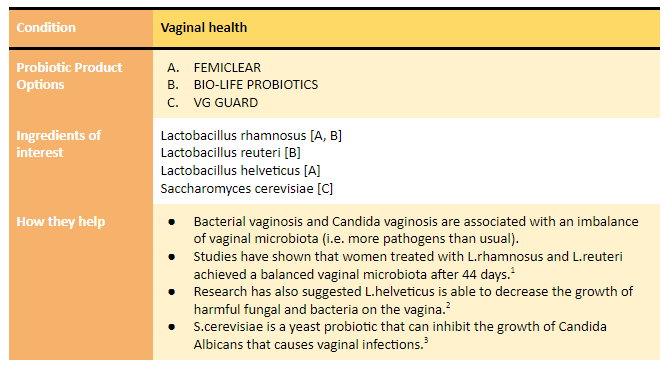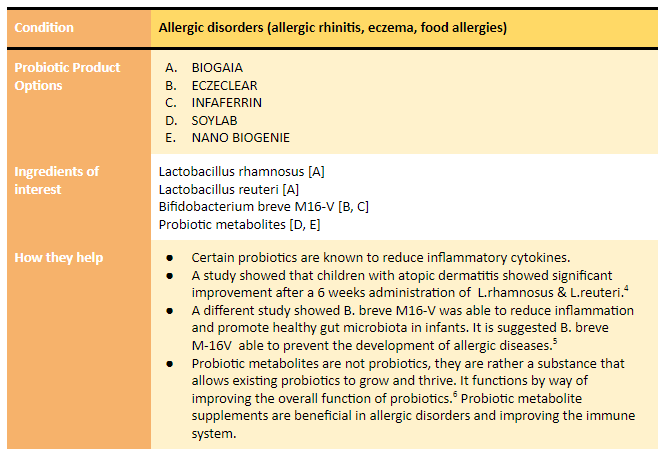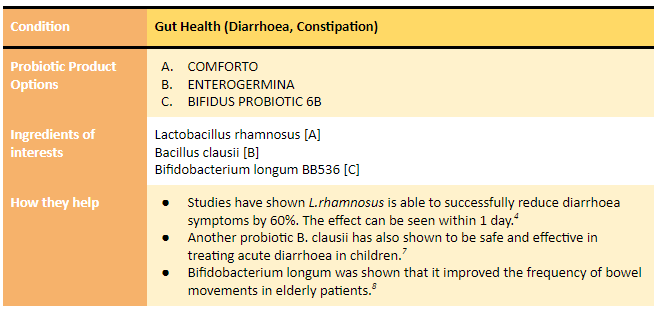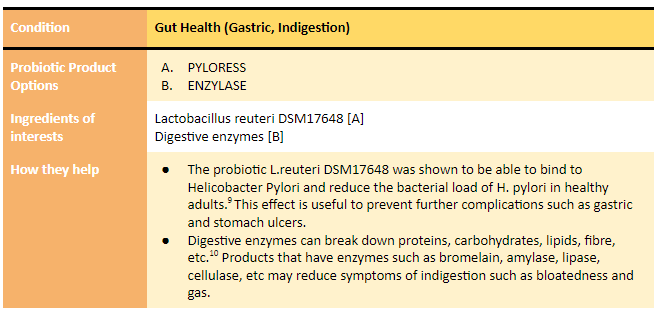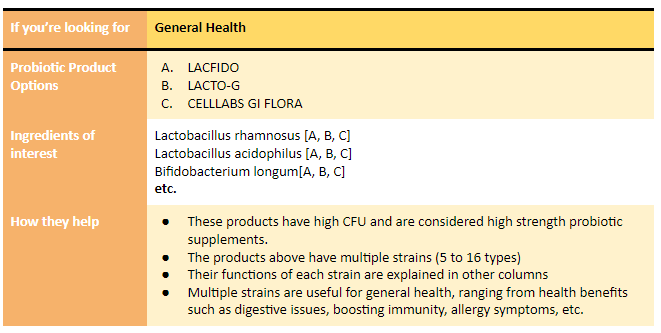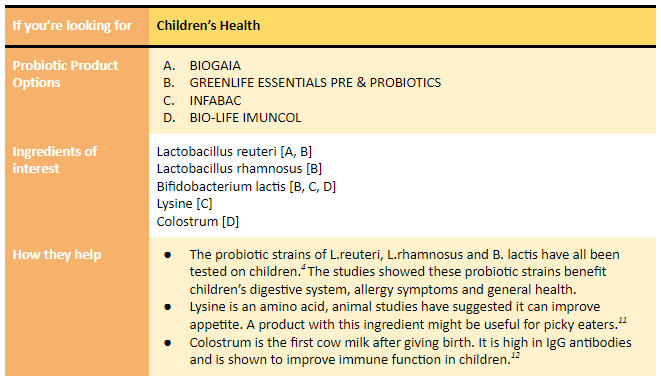 References:
Efficacy of orally applied probiotic capsules for bacterial vaginosis and other vaginal infections: a double-blind, randomized placebo-controlled study.  G Vujic, A Knez, VK Vrbanovic, et al. (2013) European Journal of Obstetrics & Gynecology and Reproductive Biology.
Health-Promoting Properties of Lactobacillus helveticus. V Taverniti & S Guglielmetti. (2012) Frontiers in Microbiology.

A tale of tw  o yeasts: Saccharomyces cerevisiae as a therapeutic against candidiasis. D Wilson (2016). Virulence

Clinical efficacy of probiotics: review of evidence with focus on children. (2006) Journal of Pediatric Gastroenterology and Nutrition.

Exploring the Science behind Bifidobacterium breve M16-V in infant health. CB Wong, N Iwabuchi, JZ Xiao. (2019). Nutrients.

Inhibitory effect of metabolites from probiotics Lactobacillus acidophilus strains on growth of pathogenic bacteria. H Pyar, KK Peh, MT Liong (2011). Journal of Pharmacology and Toxicology.

Bacillus clausii

for the Treatment of Acute Diarrhea in Children: A Systematic Review and Meta-Analysis of Randomized Controlled Trials. G Ianiro, G Rizatti, A Gasbarrini, et al. (2018) Nutrients. 

Modulatory effects of Bifidobacterium longum BB536 on defecation in elderly patients receiving enteral feeding. J Kondo, JZ Xiao & Shimoda, et al. (2013) World Journal of Gastroenterology.

Significant Reduction in Helicobacter pylori load in Humans with Non-viable Lactobacillus reuteri DSM17648: A Pilot Study. C Holz, A Busjahn, C Lang, et al. (2015) Probiotics Antimicrob Proteins.

Digestive Enzyme Supplementation in Gastrointestinal Diseases. G Ianiro, S Pecere, G Cammarota, et al. (2016) Current Drug Metabolism. 

Improved growth performance, food efficiency, and lysine availability in growing rats fed with lysine-biofortified rice. QQ Yang, PT Suen, SSM Sun, et al. (2017). Scientific Reports.

Effects of Bovine Immunoglobulins on Immune Function, Allergy, and Infection. LH Ulfman, JHW Leusen, RJBV Neerven. (2018) Frontiers in Nutrition.