What Is Hypoglycemia?
Hypoglycemia is a condition whereby the blood sugar drops to a very low level.  The Ministry of Health states that for hypoglycemia cases, plasma glucose drops to a low level of below 3.9 mmol/L.1 This results in the following symptoms:
Autonomic (physical) symptoms: trembling, palpitations, sweating, anxiety, hunger, nausea & tingling.
Neuroglycopenic (brain function related) symptoms:  difficulty concentrating, confusion, vision changes, stroke-like symptoms, drowsiness, vision changes, difficulty speaking, headache, seizures & coma.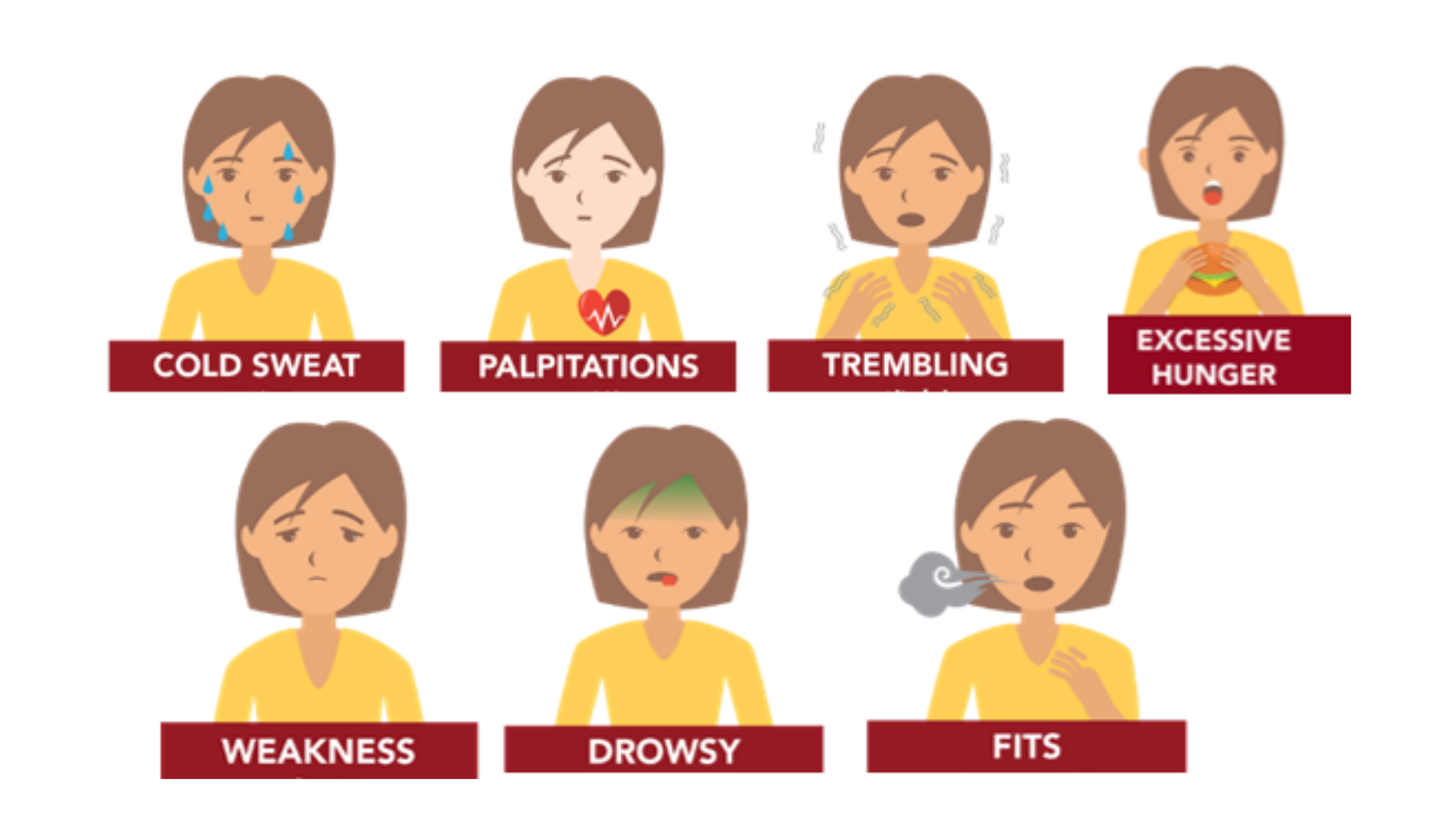 Image: Tan Tok Seng Hospital, Singapore. Examples of symptoms of hypoglycemia2
Who Is At Risk Of Low Sugar Levels (Hypoglycemia)?
Elderly

Poor health knowledge

Uncontrolled diabetes

Severe cognitive impairment

Unawareness of hypoglycemia

Long usage of insulin therapy

Kidney and liver disease 

Nerve damage
3 Ways To Prevent Hypoglycemia
There are 3 simple yet essential strategies to prevent hypoglycemia
Be aware

if you are at risk 

Be aware

of hypoglycemic symptoms 

Monitor

blood sugar at home

Utilise a glucose meter to monitor sugar levels

Self-monitoring enables the user to better understand the effects of his/her own sugar levels as a result of changes to diet, lifestyle or medication

This method enables the user to monitor the sugar levels before it reaches below 3.9 mmol/L
4 Steps To Take If You Experience Hypoglycemia
"THE 15-15 RULE"
If you have low blood sugar levels of less than 4.0mmol/L, you can treat it with the following 15-15 rule:
Step #1
Eat/drink 15g of carbs.

Step #2
Wait for 15 minutes.
Step #3
Check blood sugar.
Step #4
Repeat Step #1 – #4 if you're still less than 3.9mmol/L.
When To See a Doctor?
If hypoglycemic episodes happen regularly, please review with a doctor as soon as possible as the medications that you have been prescribed may need to be reviewed. 

If one experiences severe hypoglycemic symptoms (such as a seizure, confusion, weakness and in need of assistance from another person), please see a doctor immediately, as this requires immediate medical assistance.
Monitor your Blood Sugar Levels Regularly with OneTouch
Regular monitoring of blood sugar levels can help you avoid hypoglycemia. As you become more aware of your blood sugar levels, you may be able to tell when you might be in a situation close to experiencing hypoglycemia. So when you read your glucose meter, you can take the following actions. 


OneTouch New User Program – Purchase 2 boxes of OneTouch Ultra Plus Strip 25's at any CARiNG Pharmacy and get an OneTouch Ultra Plus Flex meter for FREE!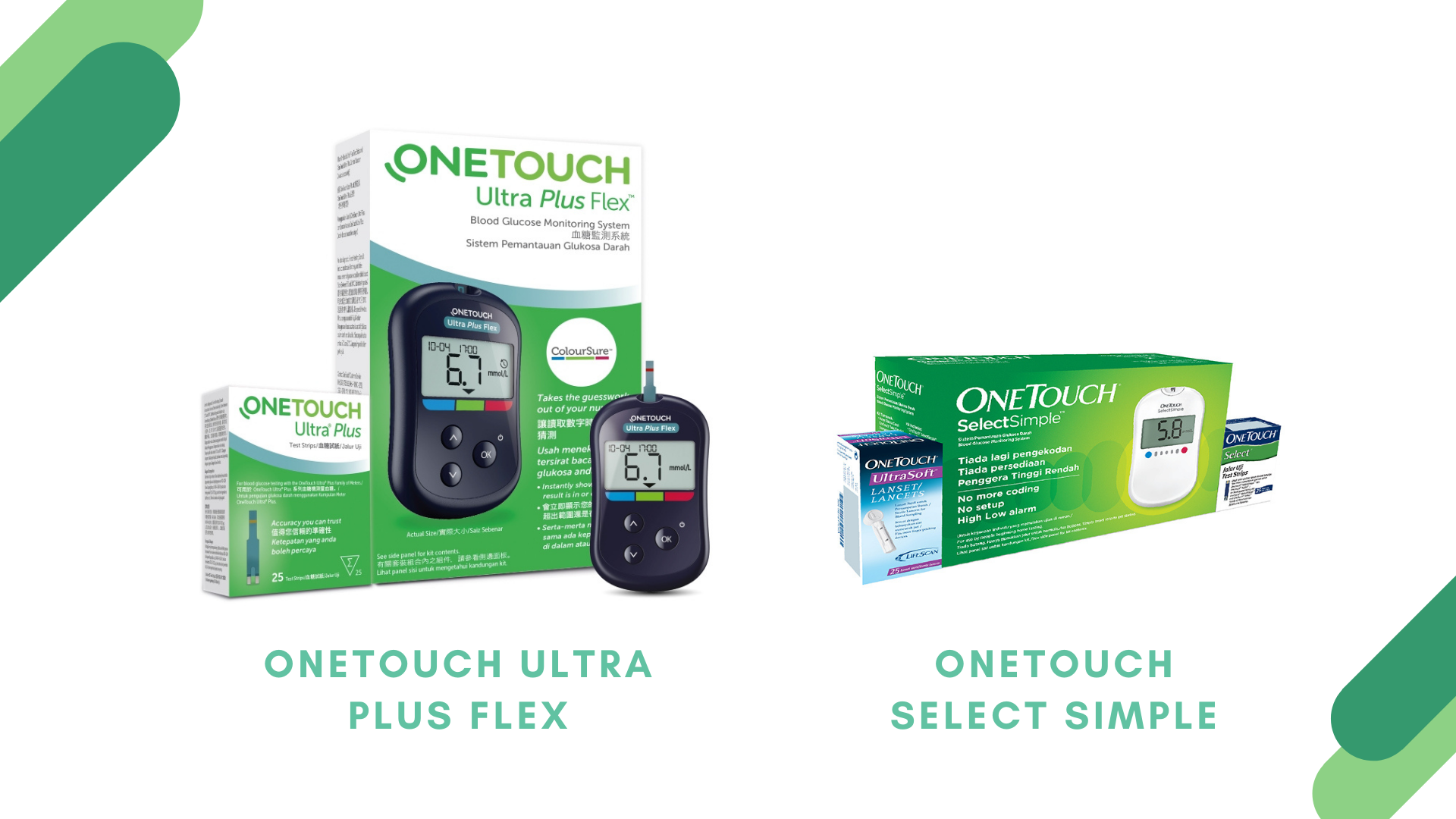 Blood glucose meters such as OneTouch Select Simple and OneTouch Ultra Plus Flex help to make tracking your blood sugar quick and easy. The OneTouch Ultra Plus Flex meter requires only a tiny drop of blood for a reading. It has a large screen which allows easy reading of the blood sugar levels. The bluetooth technology enables the meter to be synced to your mobile phone and have all the blood sugar records easily accessible to the user to detect and reflect incidences of low sugar levels.  
*While stocks last.
Visit any CARiNG Pharmacy store for more information.
Alternatively, if you have any urgent questions, you may message us now via facebook. 
References:
Management of Type 2 Diabetes Mellitus (6th Edition). Ministry of Health Malaysia. (2020). Clinical Practice Guidelines. 

Diabetes Management – Management of Low Blood Glucose (Hypoglycemia). Tan Tock Seng Hospital, Singapore. (Web accessed February 2021). Weblink: https://www.ttsh.com.sg/Patients-and-Visitors/Pages/Find-Conditions-and-Treatments-Details.aspx?condition=Diabetes-Management-Hypoglycemia
A community awareness message brought to you by: