Nutrition – The Underutilized Tool in the Fight Against Diabetes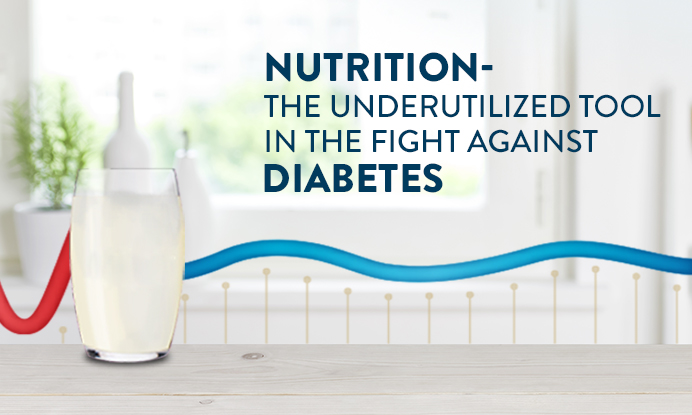 When someone is diagnosed with type 2 diabetes, there can be many emotions and thoughts running through their head. As they come to understand their new diagnosis, they might feel like food is a foe and the potential cause for their situation. For those living with diabetes, nutrition can be one of the more challenging aspects of diabetes management compared to pharmacology and physical activity. However, when these three components of diabetes management are in step, they can help individuals be more successful on their management journey.
While understanding nutrition can be daunting for those recently diagnosed with type 2 diabetes, those who take the time to learn about and implement good nutrition can make huge progress in their diabetes control. When it comes to nutrition for those with diabetes, there are some important considerations including:
Overall Eating Pattern

: Following a healthy eating pattern that includes a variety of nutrient-dense foods – or foods that have a lot of nutrients but relatively few calories, like fruits, vegetables, whole grains and lean proteins – in appropriate portion sizes can help improve overall health and

:

Maintain or lose weight, if needed.

Achieve blood sugar goals.

Delay or prevent diabetes complications.
Quality and Quantity of Carbohydrates:

Carbohydrates are one of the main nutrients in many foods and have a direct impact on blood sugar levels. Learning about carbohydrates – where they're found and in what quantities can help people with diabetes manage their condition. Considering foods' glycemic index (GI), a value that indicates how slowly or quickly a food can increase blood sugar levels, may also help management. In general, low GI foods increase blood sugar slowly whereas high GI foods increase blood sugar quickly. For people with diabetes, high GI foods can make it difficult to control diabetes while eating low GI foods can help individuals control blood sugar.  Examples of low GI foods include barley, quinoa, oatmeal, many fruits, and most nuts, legumes and beans.
Diabetes-Specific Formulas (DSF):

Specialized nutrition products are convenient nutrition sources to help support diabetes management. 
What are the nutrients in DSF?
DSF usually contains a complete range of all the essential nutrients needed, based on established recommended dietary intake values. It helps to reduce risk of malnutrition among diabetics. DSF also usually contains slow-release carbohydrates which helps to reduce spikes or fluctuations of blood glucose levels after a meal. Most DSFs are formulated to be rich in MUFAs and PUFAs, while containing limited amounts of saturated fats. In addition to supporting diabetes control, this blend also reduces the risk of cardiovascular diseases, a common complication associated with diabetes.
How DSF helps in supporting diabetes management?
Slowly digestible carbohydrates in DSF help increase Glucagon-like-peptide-1 (GLP-1) levels.2 GLP-1 is a hormone secreted by specialized cells in the gastrointestinal tract, mostly in the ileum or small intestine and colon.3 It stimulates insulin secretion to support better blood glucose control. GLP-1 also inhibits the action of glucagon, an enzyme that raises glucose levels in the blood.3
Is DSF clinically proven to support diabetes management?
There have been many studies on the potential benefits of DSF on people with diabetes. Medical nutrition therapy that incorporates low-calorie meals, meal replacement with DSF and physical activity is shown to improve diabetes control (reduce HbA1c levels) and weight loss as compared diabetes management with standard diet.4
How to incorporate DSF in the daily diet of a diabetics?
DSF, as part of a lifestyle intervention, has been shown to help manage blood glucose and give people with diabetes the freedom to replace meals or snacks to satisfy their hunger. They may incorporate 1 – 2 servings of DSF in daily diet as meal replacement (for people who is overweight), partial meal replacement (for people with normal weight) and as supplement to diet (for people who is underweight).
By speaking with a healthcare professional or looking at diabetes-related resources, people with diabetes can get practical tips and strategies on how to implement good nutrition and form healthy habits while maintaining the pleasure of eating. These strategies – along with pharmacology and physical activity – can help them successfully manage diabetes.
*Postprandial glycemic response.
References:
American Diabetes Association. Diabetes Care. 2019;42 Supplement 1:S46–S60.

Devitt AA, et al.

Journal of Diabetes Research & Clinical Metabolism

2012;1:20.

Lim GE, et al.

Diabetes

2006;55(Suppl. 2):S70-S77.

Chee W.S.S., et al. (2017).

BMJ Open Diabetes Res Care

;5:e000384.
Article by:

MAL.2020.4216.GLU.2 (v1.0)