What is Paxlovid?
It combines two medicines2:
Nirmatrelvir – an antiviral medicine that targets the enzyme that Sars-Cov-2 virus requires to replicate

Ritonavir – assists to keep Nirmatrelvir at optimal concentrations and prevent its breakdown in the body in order to combat the virus
This prevents the virus from multiplying inside your body and allows your own immune defenses  to combat the virus
How to get Paxlovid?
No, Paxlovid will neither be available in pharmacies nor other private healthcare facilities. At least not at this moment. 
Visiting a government hospital will not guarantee you a course of Paxlovid as well. 
Patients who are present at CAC (COVID-19 Assessment Centre) and government hospital will be assessed by medical officers to determine the eligibility of using Paxlovid. Patients with a score of 3 or above (based on the criteria set by the Ministry of Health) will be prioritized for Paxlovid treatment. 
As our Minister of Health has stated, there is a protocol to this and not every COVID-19 patient will be treated with Paxlovid.
Elderly patients, patients with multiple comorbidities and immunocompromised patients will also be prioritized. 
How effective is it?
Clinical trial data shows an 89% reduction in Covid-19-related hospitalization or death from any cause compared to placebo in a group of 1,219 high risk patients.2
In terms of hospitalization among patients 65 years of age or older, only 1.1% of treated patients were hospitalized, compared to 16.3% of participants who received placebo.2
How safe is it?
While it is generally well tolerated, possible side effects of Paxlovid include hives, impaired sense of taste, diarrhea, high blood pressure and muscle aches.4
On the other hand, Paxlovid may have significant drug interactions with a long list of other drugs such as those for migraines, gout, irregular heart rate, schizophrenia, seizures, hypercholesterolemia and others. Caution should be exercised for patients with preexisting kidney and liver diseases or liver enzyme abnormalities to avoid serious complications.4 Thus, it is crucial that your prescriber considers all circumstances prior to initiating this therapy.
Who is eligible to take Paxlovid? 
In Malaysia, it is registered to be used for Covid-19 patients aged 18 and above, with infection in Category 2 and 3 who do not need oxygen therapy, and those who are at higher risk of developing severe infection. That means older people and those with underlying medical conditions like cardiovascular disease, diabetes, chronic respiratory disease, or cancer.5
When should Paxlovid be taken?
As with all antivirals, Paxlovid is most effective if taken early in the course of the disease. The 5-day course of 3 tablets, twice daily should be initiated as soon as possible after diagnosis of COVID-19 and within 5 days of symptom onset. Fret not, Pfizer has packaged the regimen in a labeled blister pack to ease medicine administration.5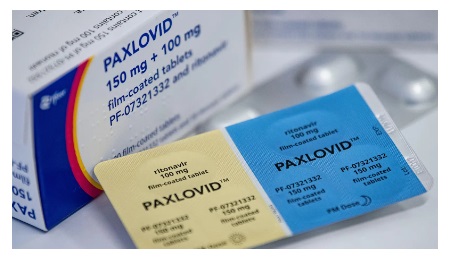 What about special populations?
Pregnancy: Not recommended due to lack of information that it will not harm the fetus.

5

Breastfeeding: Not recommended to breastfeed during treatment and for 7 days after the last dose of Paxlovid.

5

Children: Paxlovid has not been studied on children and adolescents under 18 years old.

5

Elderly – Considered a high risk group. Take as per advice from a medical practitioner.

5
With this breakthrough in Covid-19 solutions, it must be understood that Paxlovid is NOT a replacement for the vaccines, but it may just fill a gap in the market treating the dreaded disease.
References:
Paxlovid Film Coated Tablet (CMI). National Pharmaceutical Regulatory Agency (NPRA). (Web accessed April 2022). Weblink:https://quest3plus.bpfk.gov.my/front-end/attachment/286/pharma/546048/546048_20220222_162035_.pdf