We are in the midst of a COVID-19 pandemic, which has ravaged millions of lives. With Malaysia in a race against time to get as many as possible vaccinated, the pressing question is – Are the COVID-19 vaccines safe for pregnant women? 
How Does COVID-19 Affect Pregnant Women? 
Pregnant mothers are considered to be one of the vulnerable groups that are predisposed to higher risk of COVID-19 adverse outcomes. Although most pregnant women tested positive with  COVID-19 present with no symptoms, the risk for ICU admission, preterm birth and mechanical ventilation is higher compared to pregnant women without COVID-19. Pregnant women with COVID-19 are also twice as likely to experience stillbirth and their babies are more likely to be admitted to a neonatal unit.1,2 
Covid-19 National Immunisation Program
Due to the increased risk from COVID-19 during pregnancy, Malaysia's National COVID-19 Immunisation Programme is now offering vaccination for all pregnant women between 14-33 weeks of pregnancy.
Are The Vaccines Safe For Pregnant Women?
Initially in the original clinical trials, pregnant women were excluded from the studies and participants were asked to avoid becoming pregnant, however during these studies, accidental pregnancies occurred – either by missed screening or they became pregnant while in the study. The accidental pregnancies occurred in both vaccinated and unvaccinated groups, showing that the vaccine did not prevent pregnancy. 1,2
Pfizer/BioNTech has also been studied in the DART studies by administering high doses of the vaccine (several times higher than the human equivalent) in rodents or rabbits to analyze what happens in the animals and their offspring. There was no significant signal of any danger caused from the mRNA vaccine (Pfizer/BioNTech). 1,2
As of 25th June 2021, Malaysia has 3 vaccines available for pregnant women – Pfizer, AstraZeneca, and Sinovac.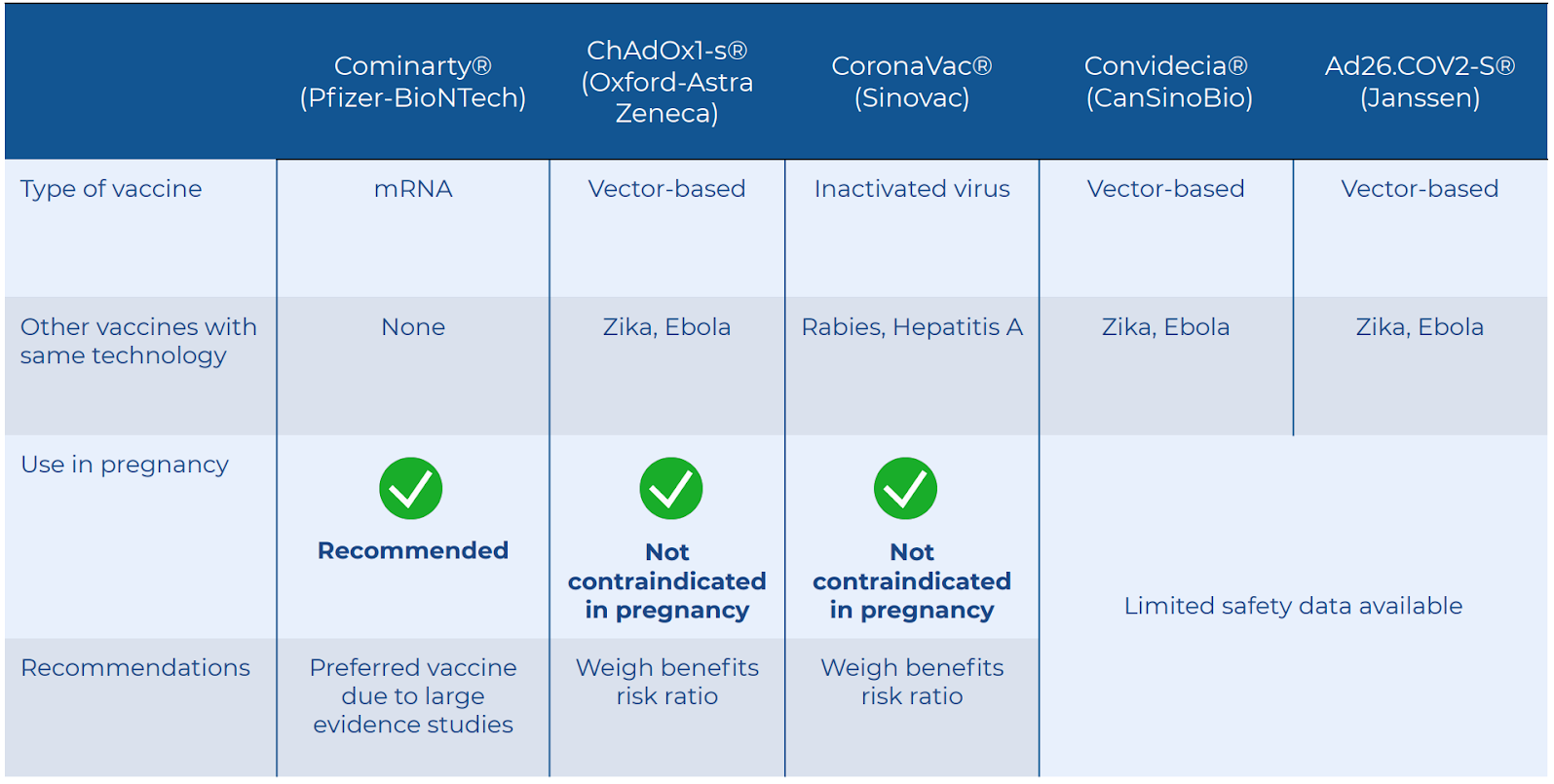 Pfizer (mRNA vaccine) is the preferred option due to large evidence studies. It contains messenger RNA which tells human cells to build a part of the outer shell of the virus, which then the immune system learns to recognise and fight off. 
AstraZeneca, J&J and Cansabio are vector-based vaccines. Vector-based vaccines have been used in Zika and Ebola vaccines in pregnancy safely. Based on available pregnancy data, it is not suggestive of a concern for pregnant women.2,4 
Sinovac uses inactivated vaccines like in tetanus and Hepatitis B vaccines with well-documented safety profile. Given the mechanism of these vaccines that do not contain live virus, and that there is currently no known fetal risk with using vaccines that are inactivated, there is no way the vaccine can cause COVID-19 infection.2,3 
Takeaway
The Pfizer vaccine is the preferred vaccine for pregnant women. Nevertheless, women who are pregnant, or are planning to get pregnant, should still discuss with their doctor about the vaccine's health and risks. 
References 
Shimabukuro, T. T., Kim, S. Y., Myers, T. R., Moro, P. L., Oduyebo, T., Panagiotakopoulos, L., Marquez, P. L., Olson, C. K., Liu, R., Chang, K. T., Ellington, S. R., Burkel, V. K., Smoots, A. N., Green, C. J., Licata, C., Zhang, B. C., Alimchandani, M., Mba-Jonas, A., Martin, S. W., … Meaney-Delman, D. M. (2021). Preliminary Findings of mRNA Covid-19 Vaccine Safety in Pregnant Persons.

New England Journal of Medicine

,

384

(24), 2273–2282.

https://doi.org/10.1056/NEJMoa2104983

Allotey J, Stallings E, Bonet M, et al. Clinical manifestations, risk factors, and maternal and perinatal outcomes of coronavirus disease 2019 in pregnancy: living systematic review and meta-analysis. BMJ 2020;370:m3320-m3320.

CDC. (2021, June 29).

Vaccination Considerations for People Pregnant or Breastfeeding

. Centers for Disease Control and Prevention.

https://www.cdc.gov/coronavirus/2019-ncov/vaccines/recommendations/pregnancy.html

COVID-19 Vaccination Considerations for Obstetric–Gynecologic Care

. (n.d.). Retrieved 11 July 2021, from

https://www.acog.org/en/clinical/clinical-guidance/practice-advisory/articles/2020/12/covid-19-vaccination-considerations-for-obstetric-gynecologic-care