The use of RTK-Ag Self-Test Kit should be used during a scenario that requires urgent results for prompt patient management and should be followed with an RT-PCR for a confirmatory test.1

These includes (but not limited to):
Screening for a person with COVID-19 symptoms in a confirmed cluster; 

Screening for close contact in a confirmed cluster;

Other screenings identified by MOH.
What Should You Do If Tested Positive/Negative
Important notes: 
RTK-Ag (Rapid Test Kit-Antigen) Self-Test Kit has the advantage of providing fast results, it is inexpensive and can be used as a point of care testing. 

Due to its limitation in sensitivity compared to molecular testing like RT-PCR (Real-Time Reverse Transcription Polymerase Chain Reaction), RTK-Ag testing is considered as a screening test, and RT-PCR shall be used as a confirmatory test to define a COVID-19 case. 

Thus,

positive RTK-Ag is regarded as a probable COVID-19 case and shall be followed by RT-PCR to confirm as a COVID-19 case

. 

A patient with a positive result must seek medical advice as soon as possible.

A patient with COVID-19 symptoms shall be referred for a repeat test using RT-PCR even with negative RTK-Ag results. 
A glance at what you should do if you are tested positive/negative using the kit: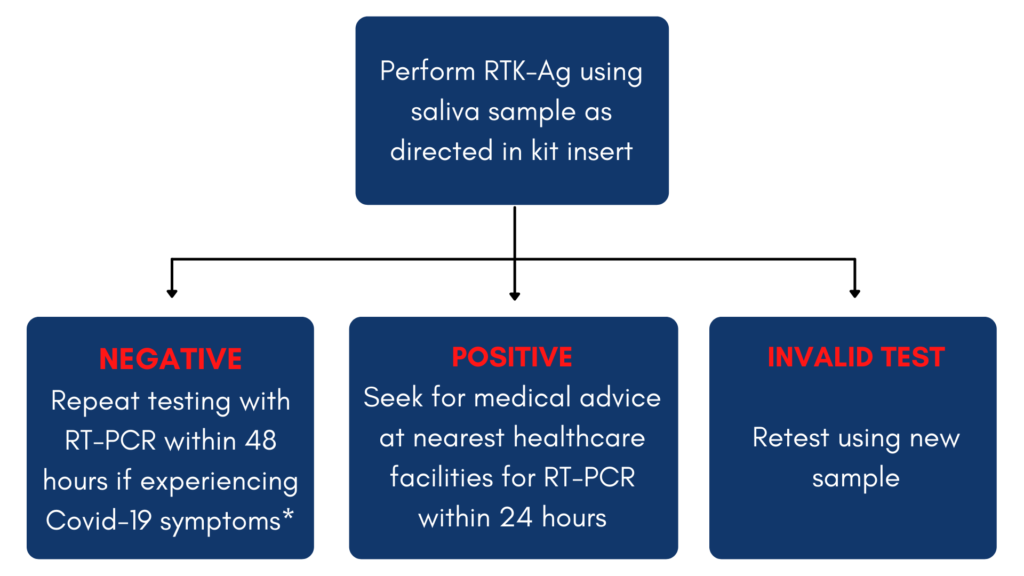 *Including individuals who fall under the Home Surveillance Order (HSO), and exhibit any COVID-19 related symptoms during the quarantine period.  
Not to forget, RTK-Ag Self-Test Kit may produce false-negative results in some instances. You should continue to be cautious and practise safety measures even if you are tested negative.
COVID-19 Self-Test Kits are available now at CARiNG Pharmacy. Visit your nearest CARiNG Pharmacy or CARiNG e-Store to place an order or to get more information. Find out more information about COVID-19 Self-Test Kit here.

Reference:
1. Guideline On Covid-19 Testing Using Antigen Rapid Test Kit (Rtk-ag) For The Health Facilities In Ministry Of Health Version 5.0. Ministry of Health Malaysia. Updated 27 January 2021.