Where do you keep your medicines? Are they in different places — some in the medicine cabinet, some in the kitchen, and some in the bedroom or elsewhere? Can you find them when you need them? And do you know how to safely dispose of them? Safe use of medicine also includes safe storage and disposal.


Why Is It Important to Safely Get Rid of Medicines?
Here are three scenarios illustrating why it's important to carefully and regularly use the right methods to dispose of any medicines:
It avoids the exposure of medicines in the environment and water supply.

Your neighbour has been taking birth control pills (or antibiotics, or mood enhancers, hormone replacements, or other drugs) for years, but never took them all. So she flushed her leftovers down the toilet, and now they are part of your community's water supply. You've been drinking, cooking, cleaning, and bathing in them every day.

It prevents the medicines to get Into the wrong hands.

 An elderly neighbour takes many medicines. When she isn't looking, the teenage boy next door who does odd jobs and runs errands for her pockets some of those medicines then sells them at school or takes them himself.

It reduces the risk of taking the wrong drugs or expired drugs.

An older gentleman has developed problems with his sight and can no longer read well. He has trouble distinguishing among the many medicines and pill bottles in his bathroom and suffers additional medical problems because he takes the wrong drug or an expired drug.

What Are The Current Efforts In Malaysia?
In Malaysia, the most common method for disposal of unused medicines in households is disposal in the garbage, which may not be appropriate at all times. Being the wise consumers and caring towards the health wellbeing of our future generations, we should be concerned with the safe and environmental-friendly aspects of the disposal of unnecessary medicines as according to the proper guidelines. 
To align with the above, Ministry of Health Malaysia (MOH) Malaysia has implemented the Return Your Medicines Program. Through this program, patients can return their unused or excess medicines kept at home for safe disposal by MOH. In addition, CARiNG Pharmacy in collaboration with University Malaya brought to you the Safe D.U.M.P Programme where you can send in the unwanted medicines to the selected CARiNG Pharmacy stores. We would assist you to dispose of these medicines safely!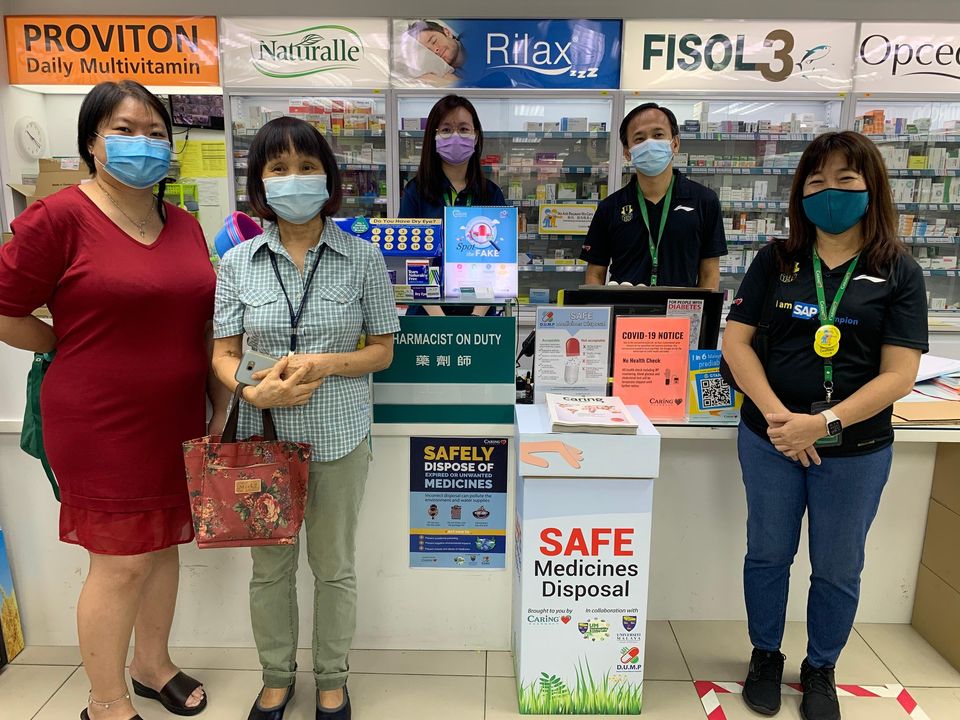 This program is available at all CARiNG Pharmacy stores. [Updated in Jan 2022]
Simple Steps To Start Off With Safe Medicines Disposal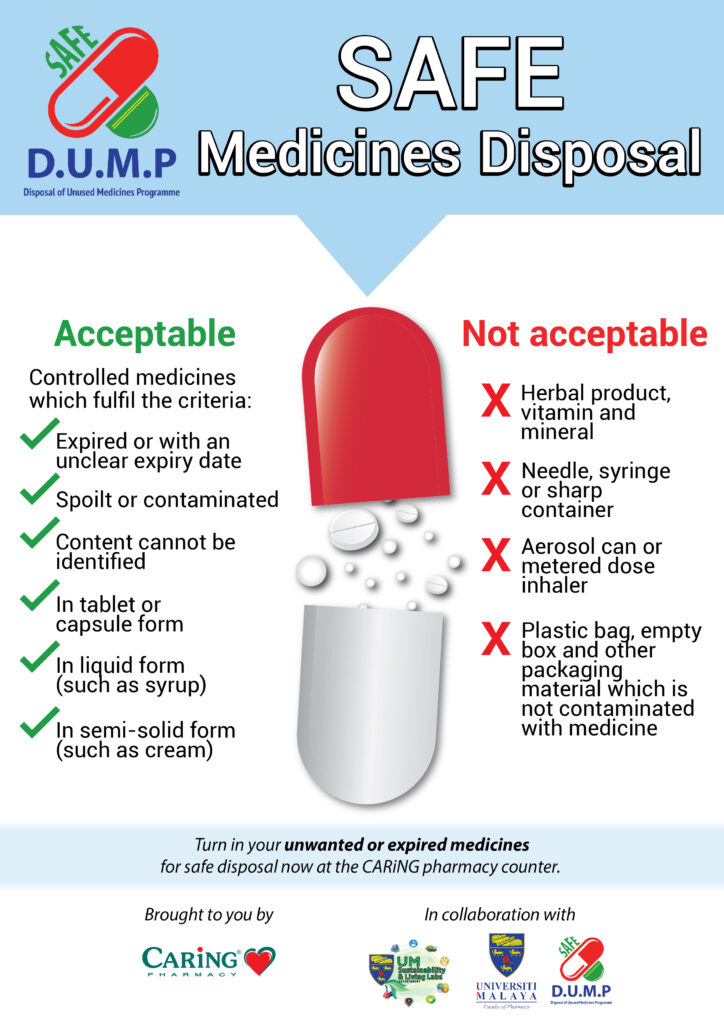 Take an inventory of the medicines you have in your home every six months.
Check the expiration date on the bottle or package — you don't want to take any chances with a medicine that no longer works the way it's supposed to. Don't take medicines that are discoloured, dried out, or crumbling. Check the expiration date for eye drops and ear drops, too. They may no longer be effective and, worse, could be a breeding ground for bacteria or fungus. 
Collect unwanted medicines into a safe container.
Bring it to your nearest organisation that can help you with the disposal of medicines. We have only one Earth, therefore we should learn to care and conserve our world. Although we might not be able to contribute that much in doing so, let us start by handling the unused medicines the right way. 
Reference: 
Kifli, N. (2016). Medication Wastage and its Disposal Amongst Patients at Suri Seri Begawan Hospital in Brunei Darussalam. Medicine & Health, 11(2), 139-150. DOI: 10.17576/mh.2016.1102.04

Tangiisuran, B., Jiva, M., Ariff, A., Abdul Rani, N., Misnan, A., & Rashid, S. et al. (2018). Evaluation of types of poisoning exposure calls managed by the Malaysia National Poison Centre (2006–2015): A retrospective review. BMJ Open, 8(12), e024162. DOI: 10.1136/bmjopen-2018-024162

Vet, P. (2020). Pet Emergency Statistics | Preventive Vet. Retrieved 8 September 2020, from https://www.preventivevet.com/pet-emergency-statistics