What Does Diabetes Management Mean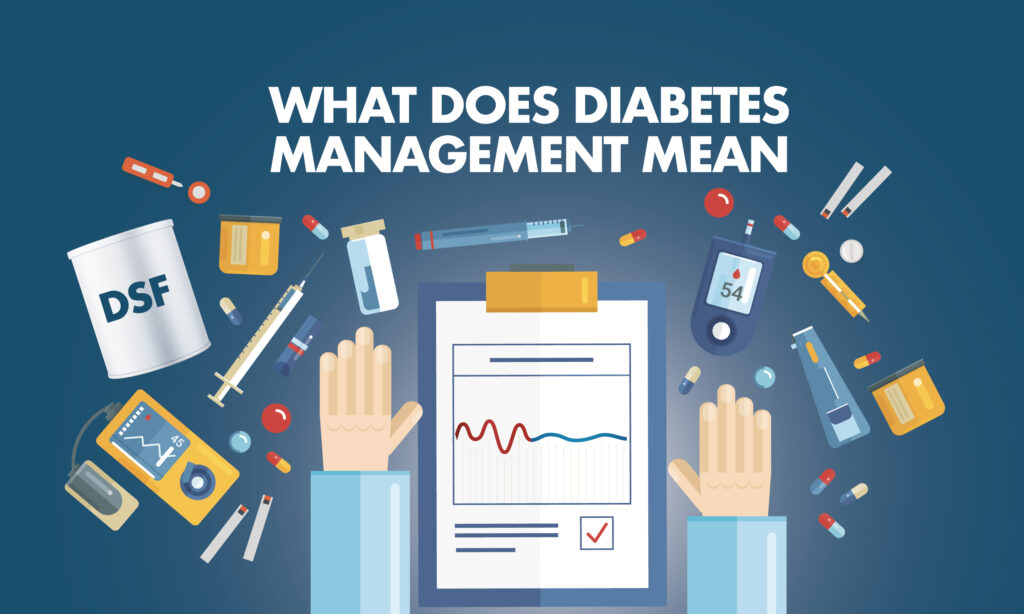 What Does Diabetes Management Mean?
When it comes to diabetes management, people often think about avoiding blood sugar highs and lows, but equally – if not more – important is avoiding constant fluctuations of blood sugar levels over time, as these can lead to serious health complications and impact quality of life.1  But what does all this mean, and what can be done to help improve glycemic control?
Understanding Blood Sugar Levels
Every time someone eats, the food is broken down into tiny particles in the body. Many foods contain carbohydrates which are broken down into tiny glucose molecules. So after eating foods with carbohydrates, blood sugar will increase because there is more glucose in the body. Conversely, if you haven't eaten in a while, blood sugar levels can get low because there isn't much glucose in your system. If needed, insulin is used around the time you eat to help manage blood glucose – or blood sugar – levels.
Diabetes management involves good glycemic control, which means managing steady blood sugar levels within target ranges. When people don't maintain good glycemic control, it can cause issues like hyperglycemia (high blood sugar levels), hypoglycemia (low blood sugar levels) or fluctuations in blood sugar, in general.
Hyperglycemia can be caused if the body doesn't produce enough insulin or utilize it efficiently, or by eating more than planned, exercising less than planned, emotional stress or illness. Symptoms include frequent urination, increased thirst, blurred vision or fatigue. If left untreated, hyperglycemia can cause ketoacidosis, which is a serious condition that can lead to diabetic coma where people pass out and are unconscious for a long time. 
Hypoglycemia can occur if someone is not eating enough carbohydrates, skipping a meal, exercising intensely or for a long period of time, or taking too much diabetes medication. Symptoms of hypoglycemia include feeling shaky, fast or irregular heartbeat, nausea, or feeling lightheaded or dizzy. If left untreated, it can cause severe hypoglycemia which can lead to seizures, coma or even death.
When blood sugar levels constantly fluctuate it can impact health and quality of life. The constant fluctuations and poor glycemic control can also lead to serious health complications such as kidney disease, eye disease, diabetic foot ulcers, heart disease and stroke.
How to Maintain Glycemic Control
People with type 2 diabetes can maintain good glycemic control through key factors including diabetes medication, nutrition and physical activity – all of which play a synergistic role in diabetes management.
A healthcare provider can guide individuals on medication that will work best for them. Taking diabetes medication as prescribed by a healthcare provider can help manage blood sugar level within the target range.
Physical activity can help people with diabetes control blood sugar levels and lower their risk for heart disease and nerve damage.2 Additionally, being physically active can help individuals lose or maintain weight, sleep better and control their blood pressure.
Nutrition is also a key component in diabetes management and should be tailored to each individual. Speaking with a healthcare professional, can help people with type 2 diabetes determine an eating pattern that would work best for them. In general, it's important to eat nutrient-dense foods – like fruits and vegetables – in appropriate portion sizes. Individuals may also have to monitor the amount and type of carbohydrates they consume. Carbohydrates are one of the main nutrients found in foods and some beverages and have a direct impact on blood sugar levels. Considering foods' glycemic index (GI), a value that indicates how slowly or quickly a food can increase blood sugar levels, may also help management. In general, low GI foods increase blood sugar slowly whereas high GI foods increase blood sugar quickly. For people with diabetes, high GI foods can make it difficult to control diabetes while eating low GI foods can help individuals control blood sugar.3 Examples of low GI foods include barley, quinoa, oatmeal, many fruits, and most nuts, legumes and beans. Diabetes-specific formulas – which can be used as a meal replacement – are designed to help minimize blood sugar spikes, when used as part of a diabetes management plan. 
Good glycemic control takes a concerted effort, but it can be achieved through diabetes medication, good nutrition and physical activity.
References:
Umpierrez GE and Kovatchev P. Am J Med Sci. 2018;356:518-527

Centers for Disease Control and Prevention. Get Active! Living with Diabetes. Webpage.

NIH U.S. National Library of Medicine. MedlinePlus. Glycemic index and diabetes. Webpage.
Article by:

MAL.2020.5210.GLU.1